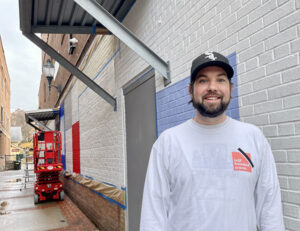 Managing Editor Cathy DeDe writes: The Chronicle caught Chicago mural artist Michael Ferrarell getting started on his multi panel mural on the alley side of the Wood Theater, facing SPoT Coffee.
"Oh, The Chronicle, you're in it!" he said when we introduced ourselves.
The panels will depict local history through images of significant people, events and landmarks, as derived in part from a survey of residents.
It was commissioned by …
Read More »