Call us to order (518-792-1126) and postage will be calculated based on how you wish the book(s) to ship.
The Chronicle Reader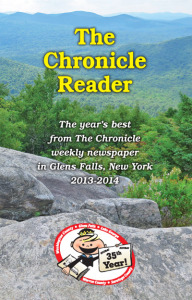 The Chronicle Reader contains more than 100 articles by more than a dozen writers, plus letters to the editor and photographs drawn from September 2013 to September 2014. Quintessentially local — printed by Glens Falls Printing on Finch Paper made in Glens Falls — The Chronicle Reader is meant to spotlight not just a newspaper but the people, the place, the community of northern New York.
The year's best from The Chronicle weekly newspaper in Glens Falls, New York 2013-2014
Published in 2014 by Lone Oak Publishing Co., Inc.
296 pages; softcover
ISBN 978-0-9798982-1-1
$10.00
Jumping Off Cliffs and Other Short Essays
Jumping Off Cliffs is a selection of Sandra's popular weekly columns on family life written for The Chronicle. She touches on a wide range of issues affecting families today, from juggling work and family, resorting to a minivan and surviving travel with kids, to Bill Clinton, Cal Ripken and Martha Stewart. Often humorous, her columns tap into the challenges and ironies of 21st century family life.
By Sandra Hutchinson
Published in 2007 by Lone Oak Publishing Co., Inc.
202 pages; softcover
ISBN 978-0-9798982-0-4
$8.95
PermaFrost by Mark Frost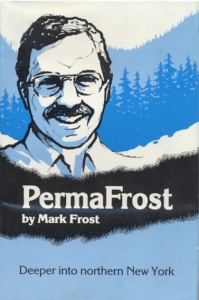 Another collection of articles and commentary about people and places in northern New York, written over a ten-year period.
From 49-year old tavern owner Tony Guglielmi to northern New York's foremost entrepreneur Charley Wood. From a hunting camp deep in the Adirondacks to the plush new Sagamore Resort in Bolton Landing. From ancient lives expressed on gravestones in a Chestertown cemetery to the contemporary horror of children being stolen by strangers.
Mark Frost details the people, the values and the character of a part of New York State that is little written about, seldom revealed.
By Mark Frost
Published in 1986 by The Chronicle Newspaper
134 pages; hardcover
$8.95
Scattered Frost by Mark Frost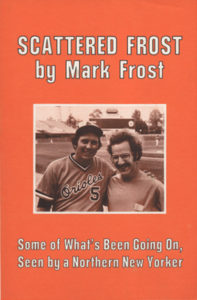 Mark Frost's first published book includes a selection of columns he wrote under "Mark Frost: At Large" for the Glens Falls Post Star, as well as radio commentaries he prepared for WWSC radio in Glens Falls. Mark sold 700 copies of Scattered Frost within the first eight days it was available for purchase. His success with this book propelled him to start The Chronicle Newspaper in 1980.
By Mark Frost
Published in 1979 by Academy Books, Rutland, Vt.
138 pages; softcover
ISBN 0-914960-22-9
$5.50