By Cathy DeDe, Chronicle Managing Editor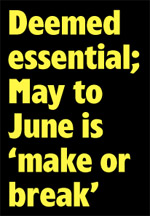 "It's scientifically proven. Flowers make people happy," says Tami Field, manager of Binley's Florist and Garden Shop in Queensbury.
Like several other nursery-garden stores who responded to a Chronicle inquiry, Binley's is upbeat even as Ms. Field said sales and walk-ins are down as the spring planting season arrives.
The businesses can be open amid the coronavirus "Pause" because New York State has deemed …
Read More »