By Mark Frost, Chronicle Editor
For someone who just opened her first shop last month — departing an engineering job she'd held for more than six years around the corner at JMZ architects in Glens Falls — Jen Denis, 35, is not only confident about prospects for her Shine Style Boutique & Styling Lounge on Ridge Street, she's very persuasive. (The store is directly across the street from The Chronicle office.)
"I feel like I'm in complete alignment with what I'm supposed to be doing," she tells The Chronicle. "Like when I was eight years old — that I should open my own business."
Ms. Denis's husband Jerid Denis is also an engineer. They moved here in 2003 when "my husband got a job with what was Rist-Frost," the engineering firm. She said he works now for a firm in Albany.
She says she worked at Lincoln Logs, North Country Engineering and Northern Design, as well as long at JMZ.
What started her retailing path was LuLaRoe direct fashion sales. "I did LuLaRoe for two years. I worked from home and did parties for people. I did styling."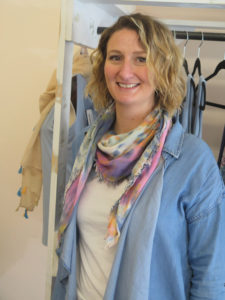 She used Facebook Live, showing goods and how to wear them, and selling directly to customers. She still does. "I do a lot on my Facebook page. I post there every day."
For LuLaRoe, "I had a team under me. I think I had 10 people when I left. My sister is on my team. My best friend is on my team. I did really well with LuLaRoe. I was just ready to do more, that's all. I wanted to have more options for my customers."
Now, she says she can select "my own fabrics, my own styles."
"I've wanted my own storefront styling boutique for as long as I can remember," says Ms. Denis. "I just never thought it was something I could make a living at until LuLaRoe."
Ms. Denis says that two life coaches facilitated her transition, accessing them via Facebook and an app called Zoom.
She says Michelle Krasney is local. As career transition coach, "she helped me work though a lot of my feelings.
"I have a boutique business coach as well," via Internet, Ms. Denis says, but she said that name she'll keep to herself.
"I hugely recommend coaching. It helped me through a lot of decisions."
Ms. Denis was certain all along of one thing — where her store should be. "I'm used to being in downtown Glens Falls," she says. "I just love the energy downtown. It's a perfect place for a boutique."
As for a specific storefront, she says, "I wasn't going to look until March, [but] this came on the market at the end of November. I drive by here every day to take my daughter to pre-school." The Denises have a son Lawson, 3, and a daughter Tenley, 4.
Ms. Denis said she phoned the day she saw the "for lease" sign. "This is exactly what I was picturing," she says. It "even had the separation between front and back," facilitating the "little mini-retreats and style parties" where women get together and "try on stuff and it's not open to the public."
"Downstairs I have stuff set up for my kids. I have a kids area for when mom shops."
"I help people find their style," summarizes Ms. Denis. "You don't have to even come here to shop. If you just want to come than happy."
She says she seeks out "what's in style, what's coming up, what the color of the year is," but keeps it "not so far fashion forward that they won't wear it — because there's a fine line here in upstate New York."
"My main goal," she says, "is to help people — women specifically — feel good."
She describes her lines as casual "everyday wear," appropriate "for a mom group, a night out with the girls, a casual office" — and not expensive.
"If you're looking for something fashion forward, I have that too," she says. "….I have basics. I have statement pieces."
In age, she says, "30s to 40s is the majority of my customers. I had a lady come here with a cane the other day and bought leggings. I had a 17-year-old come in the other day and buy a jacket from me."
She says she carries a hot-selling style of jeans — "I just can't keep them in stock."
And she aims for a constant turnover of inventory. "When I order things, I order them once. What you see here one time may not be here the next."
Another emphasis, she says, is "a vast variety of sizes…which there's not a lot of in the area" — from "small through 3X."
Ms. Denis said she looks to work with other local businesses and vendors of accessories like scarves, hats, jewelry and purses.
Scarcely two months into the venture, Ms. Denis says she has no doubt she'll succeed. "I knew I could do it. I knew it was what I wanted to do. I knew I could make it work."
Copyright © 2018 Lone Oak Publishing Co., Inc. All Rights Reserved.