By Cathy DeDe, Chronicle Managing Editor
Glens Falls says "Yes" to the dress, apparently, or at least to women's apparel.
With the addition of Shine Style on Ridge Street (and the departure of short-lived Saratoga Sundress), there are currently eight brick-and-mortar stores in downtown Glens Falls that sell woman's clothing.
We asked the owners: What's going on with women's retail in Glens Falls?
Nancy Fuller, Fountain Square
"We're all in this together," says Nancy Fuller, co-owner with her husband, Matt, of Fountain Square Outfitters on Ridge Street and Warren Streets at Centennial Circle.
(Mr. Fuller is the sole man in the sea of otherwise exclusively women-owned women's clothing retailers here.)
Fountain Square will celebrate its seventh anniversary on Earth Day, April 22.
The thrust is outdoor wear and gear, but Mrs. Fuller says they pitch it as "trail to tavern," or, "well-made things that can go almost anywhere."
"We're growing our lines," she says. "We expanded sooner than I thought we would" to include footwear, children's clothing, Cliff bar food products, even, and simply "deeper buys" of more stock, and more brands.
The clientele, she says, is "all ages. People looking for things that last. We have a great local following, and for new people coming into the area, we have brand recognition."
The core begins with Patagonia, fair trade outdoor-related clothing manufactured by workers who are paid a premium wage, Mrs. Fuller said. The result might be more expensive products, but Mrs. Fuller says it's morally compelling and also environmentally sound — resulting in products that last rather than clothing made cheaply, to be replaced frequently.
"We opened the store because we wanted to see a thriving retail business in our downtown," Mrs. Fuller says.
Is it profitable? "Yes!" Mrs. Fuller asserts. "It takes time, about five years to build your brand," she suggests.
She adds, "We couldn't do it without all that's going on in downtown."
She lists initiatives from Sonny Bonacio's new multi-use 14 Hudson building to restaurants, other retailers, the renovated Queensbury Hotel, Adirondack Theatre Festival (of which she is incoming board president), its Adirondack Film Festival, the Glens Falls Collaborative Take a Bite weekly food festivals, the LARAC June Arts Festival, that "create a continuum of customers coming through our door."
"It's amazing to see how it's grown in seven years," Mrs. Fuller says of the downtown scene.
Ann Parrish, Milk & Honey
Milk and Honey Boutique, located on Exchange Street across from Rock Hill Bakehouse, is at 16 years, the "grande dame" of the current crop of women's clothing stores in downtown Glens Falls.
Owner Ann Parrish says, she offers "clothing and accessories you can only find in a boutique. I classify it as comfortable, casual separates, stylish and up to date." She says, "I pick lines that are not in department stores, so my customers don't see themselves coming and going.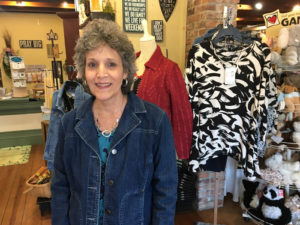 "We also have baby things, home decor, bath and body, shoes, accessories, a little bit of everything," she adds.
Mrs. Parrish started out as a home decorator with a home-based party planning business before she opened Milk & Honey.
"We did not even start out with clothing, but with home decor," she notes.
Retail is slow this time of year," Mrs. Parrish says. "Once spring is here it'll open up. But really, business is good," she says.
"It's a good thing," she says of the seeming rise in retail women's clothing stores. I would like to see Glens Falls become even more of a shopping destination. We have so many restaurants. We need more retail, so people can come, shop and eat. Right now it's good but could be better."
New next-door neighbor Rude Betty, the gift and toy spin-off of Happy Jack's in Bolton Landing, is a good draw, she adds, as is Lake George Olive Oil on Glen Street. "Anything creative that we don't already have downtown is very welcome."
Internet shopping is less a concern for her shop, with a demographic she pegs as "older," ages 40 to 70, than it might be in the larger economy, Mrs. Parrish says.
Unlike younger women who are willing to order online and mail back what doesn't work, "my customer doesn't want that hassle," Mrs. Parrish says. "They want to try it on, know what it looks like beforehand."
She adds that she does also have customers as young as teenagers come in.
Kyleen Wade, Finders Keepers
"It's a nice mix," Kyleen Wade says of the women's clothing stores in Glens Falls.
Her Finders Keepers Consignment store has been 13 years at several Glens Falls locations, most recently for nearly two years at the center of Glen Street.
"The foot traffic makes this store so much better." Ms. Wade says. "My sales are up a large percent from when I was on Broad Street" at Union Square.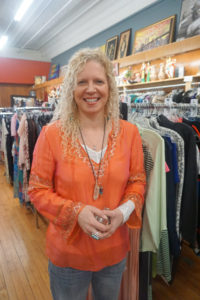 "I'm in the hub now," Ms. Wade says, "right in the center of all that's happening with The Wood, the Park Theater, all the cool restaurants. It's my favorite location so far."
"We recycle fashion," Ms. Wade says of Finders Keepers. "The nature of this store is to recycle, and to make a little extra money for people that have excess stuff, in such a way that it's an adventure. It's more of an experience than it is just shopping. I love when people go, 'Whoa, where'd you get that?'"
She says, "I love that we have the whole range now in Glens Falls. It is competitive, not amongst each other but with the online market. That's making all of us step our game up…We all have to bring our 'A game' to bring people to our brick and mortar."
She says, "I do some online marketing," and sales, though she'd rather people come in and experience the store first-hand. "My windows try to lure people in, and I try to keep em coming. Be kind and help out. When they walk in, customer service is a big deal. It can be overwhelming, with all of the things in here. That's why I have the quiet music, the smell of the store — and the organization is ridiculous."
"I'm excited for the stores we have here," Ms. Wade said. "It's not an extremely flooded market of all the same things."
Laura Traudt, Laura's Vintage
Laura Traudt has had Laura's Vintage for 14 years, six years on Ridge Street in downtown Glens Falls. She started out at Glenwood Manor in Queensbury.
"I offer curated vintage clothing, jewelry, hats, handbags and accessories," from the 1940s to the 1970s, Ms. Traudt says, "with some 80s mixed in."
Her clientele "runs the gamut," she says, from teens, up to 30 or 70 years old.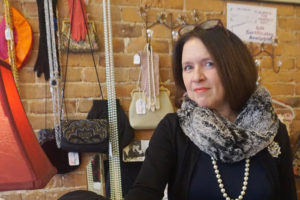 "You have to be an old soul," she says.
"A lot of the people who like what I sell are really into fashion. They want something that's made better.
Better construction, better fabric. Even clothes from the 1980s and 90s are made better than today. It's gonna last, and integrate, mixing with your modern wardrobe.
"This is not a costume shop," Ms. Traudt says, though she does sometimes help costume local theater groups, as well as dress clients for themed parties or students for history presentations. She says she seeks out items that are "mint," but also, "I do specialize in restoration."
She said, "January and February are always slow, but I have a good loyal following. I sell a lot from Facebook and Instagram." She recently shopped several 1950 hats to a woman in China, for example.
"Vintage is such a niche market," Ms. Traudt says. "A lot of people come from out of town just for my store, or someone will walk in and walk right back out. Antique shops can make a town a real destination. No one is going to drive from out of town to go to your Starbucks or Target. Vintage is like a private club."
Maura Forcier, Minky Mink
Maura Forcier purchased Minky Mink clothing boutique from original owner and founder Shonna McTiernan, who started the business in 2009.
"My business is doing really great," Mrs. Forcier says. "You could always do more, but I couldn't be happier."
She describers her offerings as "contemporary fashion and premium denim…but we do offer a variety of dresses for special occasions as well. We don't just have one style of clothing. We carry a well-rounded variety of everything, Boho inspired, classic and trendy. A melting pot if you will!"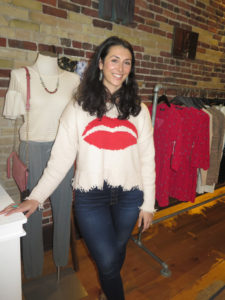 "The bulk of my customers are 28 to 55 or 60 years old," Mrs. Forcier says. "It's a broad range. I do try to have something for everybody. It's definitely higher end, but my prices range too. We also have things that are more affordable."
Mrs. Forcier says, "It's super important to have an online presence. I make it a point to post on Facebook and Instagram every single day. It's what draws people into the store."
She says, "I do sell some select items on the Website," but most of her sales are in person. "I try to give my customers something maybe that they wouldn't pick out themselves."
Competing with online sales, she says, "I have to be really strategic with the inventory I have. It has to be something not easily sold online. When I go to buyer shows, I'm always thinking, what customer is gonna buy this; can they get it in a big box store or online; is it unique?"
She says, "I think it's better when there's this much retail downtown. We help each other out. It's better if we make Glens Falls a destination shopping area."
Nathalie Leland, Whisper Boutique
Nathalie Leland opened Whispers Boutique on Ridge Street, downstairs below the now-closed Bistro Tallulah, about a year and a half ago.
"I started off monogramming things, and did custom shirts," Ms. Leland says — making gift items and such, she said, at her home and selling online on Etsy, before opening the storefront.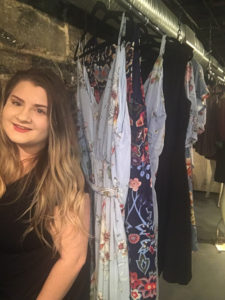 Since then, "I went more into my niche on the boutique clothing side," purchasing what she deems unique items from New York City and Los Angeles outlets.
"I've always been into fashion. I like learning what's in, and finding old things that come back," jean skirts, for example.
Her target customer? "Honestly," she says, "all ages come in, from 15-up, age 13-up. Having a wide variety was my goal, something for everyone, solid shirts and something fun to put over it. Different people can wear everything in different ways."
"One day, I had a group of people my age, and then another group of friends who were 40 and up came in."
Internet shopping doesn't appeal to her, Ms. Leland says. "Personally, I love going into a store to try something on. I also encourage everyone to go in and support small community business."
She says, "I do a lot on Facebook, and I am working on revamping the Website."
Her goal? "Having good quality clothes at an affordable cost. Also, offering sizes from Small to 3X is very important to me."
"I also have candles, purses, scarves, a small amount of home decor."
Business, she says, is "good, now that the weather is hopefully getting warmer."
Despite other clothing stores downtown, Ms. Leland says, "I feel I've had to build my own customers. Sometimes people go store to store, but I find it's more, if they come, they're coming to my store.
Eliza DeRocker, Bride & Gown
Eliza DeRocker opened Bride and Gown in the fall of 2013 with just eight consignment gowns, she recalls.
The store is located in her father Ed's distinctive stone building on Route 9, at the base of the hill leading into South Glens Falls. It's believed to be the oldest building in Glens Falls.
"It grew very rapidly right away," Ms. DeRocker says of Bride and Gown.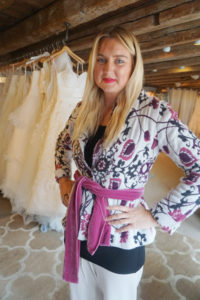 "As lots of girls couldn't afford a higher-priced gown, everyone was flocking to me like wildfire.
"I am highly selective with my choices," she says. "I also want to be the more affordable store around and offer the best customer service I can possibly offer. So it's working."
Ms. DeRocker says "We offer bridal gowns, accessories and veils and belts for the bride, mothers of the bride and groom, grandmother of groom and bride, and bridesmaids' gowns." Prom wear is also big now.
As for women's clothing, "The more discount clothing shops we have downtown the merrier."
She says, "I think Glens Falls has got a great chance of growing right now. I'm really excited about seeing SUNY Adirondack food classes going downtown. There should be a college downtown."
She says, "Online presence is not affecting us too much, as the girls who buy online come to us for a gown after they purchase it online. Ninety percent of the time it comes in the wrong size and is not made professionally."
"I use my Facebook and Instagram to market to the 20- and 30-year-olds," Ms. DeRocker says. "However, every generation goes online and finds us by Googling us. We have brides ages 18 to 70 this year.
She says, "Business is great and I will stay as long as I can" (or until her father sells the building, she adds).
Ms. DeRocker also has Saratoga Closet, in Saratoga Springs. She opened it six months after Bride and Gown, she says, to sell "casual to dressy" items. "We sell 'once loved' and new bags, shoes dresses and clothing at discounted prices, for women Extra Small to 3X.
Copyright © 2018 Lone Oak Publishing Co., Inc. All Rights Reserved.