By Cathy DeDe, Chronicle Managing Editor
The pre-Civil War Milk and Honey building at 16 Exchange Street in downtown Glens Falls is on the market for $400,000, The Chronicle has learned. It's listed with Coldwell Banker Prime Properties.
Ann Parrish, who operates the Milk and Honey retail store, said she and her husband Joseph purchased the 3,152-square foot building in 2002 for $240,500.
The signature bright yellow building houses her women's clothing boutique, the Juicin' Jar restaurant, Advokate marketing company and a private apartment.
"We are looking for someone to purchase it as an investment, and let all the tenants stay," Mrs. Parrish said. "Everybody is covered with three-year leases. I don't want to break the leases."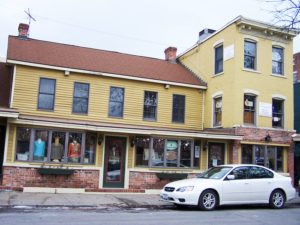 Mrs. Parrish said she intends to continue her store as well. Recovering from pancreatic cancer, she has been "blessed," she tells The Chronicle, that friends and supporters have stepped in this last year to help run it. "I am getting better, and coming back slowly," she said.
"We've had a lot of traffic," Mrs. Parrish said, since listing the property about three months ago. "Sometimes people are real-ly wanting to start their own business. We are hoping to find someone who wants to purchase it with the intent of collecting rents and having income. Everybody's looking at property in Glens Falls now."
"This charming hidden treasure is the third oldest building in Glens Falls, circa 1839," says the listing.
Copyright © 2018 Lone Oak Publishing Co., Inc. All Rights Reserved.