By Mark Frost, Chronicle Editor
Matt and Rebecca O'Hara, who for the past three years have operated a Freedom Boat Club franchise at Beckley's boats at Diamond Point on Lake George, now are buying their own marina, Dunham's Bay, on the southeast shore.
Karen Howard, who has operated Dunham's Bay since 1972, told The Chronicle that the sale closing is set for Thursday, Oct. 11. The price was not disclosed.
"I'm very happy with the couple who are buying it," Mrs. Howard said. "I'm excited about what his business can bring to Lake George. I think I'm going to be one of Matt's customers."
She said she'll sell her house in Queensbury, buy a condominium in Naples, Florida, and "spend four months up here."
Mr. O'Hara, a graduate of Boston College, and his wife Rebecca, of graduate of the University of Rochester and then Babson College with a business degree, three years ago moved to Saratoga and opened the 100th Freedom Boat Club franchise.
Mrs. O'Hara told The Chronicle in 2016, "Lake George is my happy place. My grandfather bought land here in 1941. To come up here to start this business is a dream come true."
Mr. O'Hara said then, "She's been basically on Lake George since she was born. I kind of married into Lake George."
Freedom Boat Club says its sharing concept provides members "an affordable option to boat ownership…to deliver a hassle-free recreational boating experience."
"It's going well," Mr. O'Hara says of their Lake George franchise. "There's a need for more boats and a need for more space….We started talking to Karen last year."
He said the club concept is gaining nationwide. On Lake George, he said, dock space is hard to come by and many would-be boaters can't or don't want to buy a boat. He said club members range from young families to "lapsed" boaters and retirees.
The club's one-time initiation fee "is currently $5,500," said Mr. O'Hara. The annual fee ranges from $3,100 for weekday only use to $3,800 for seven-day availability. Mr. O'Hara said the fee is payable over 12 months.
Members also can use, four times a year, the other more than 170 Freedom Boat Club locations.
Lake George Freedom Boat Club operates from early May to Columbus Day. Mr. O'Hara said the average outing of their members is three-and-a-half hours. Members can have up to four advance reservations in the computer system at a time.
Mr. O'Hara said there was "a little skepticism" when they introduced the club concept here in 2016, but that "this year was the turning point where it really took off," with business gaining by word of mouth.
He said, "We finished the year with seven boats. We plan to sell three and buy eight more, so we'll have 12. We turn them every two years."
He said they have 50 members, with one to four people on each membership. "We cap it based on the number of boats." Next year they plan on 90 members. Eventually they're envisioning a fleet of 20 boats. Boats have included bow riders, pontoons and deck boats.
Mr. O'Hara said they will continue to operate Dunham's Bay as a full-service marina — renting dock space, offering fuel, service work and winter storage.
They also sell Torqeedo electric boat motors, priced from $1,500 to as much as "20 grand," said Mr. O'Hara.
"We sold our first one in June for a sailboat in Warner Bay. They loved it and had a great summer with it. Electric mobility is growing in size and scope."
He said people like the environmental aspect and some small lakes only allow electric motors.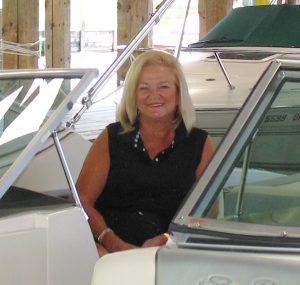 Mrs. Howard termed it "terribly bittersweet" to sell the business. "It's been 48 years of being here almost every day in the summer and even in the winter when we had four locations."
At the same time, she said, "It's my new beginning."
"The only unfortunate thing is I'm going to have to tell some of my dock customers they have to make arrangements for dock space."
Mrs. Howard said she'll do volunteer work, play golf if her back allows and maybe get a job — "any job, except selling boats."
Copyright © 2018 Lone Oak Publishing Co., Inc. All Rights Reserved.