By Gordon Woodworth, Chronicle News Editor
Frank Mineo's planned restaurant in the former Bistro Tallulah space at 26 Ridge Street in Glens Falls will be called gaslight.
"Lower case 'g', with a period at the end," he told The Chronicle.
He said the name "was a family effort. I tweaked it a little bit. I like the simplicity and satire. It wasn't an easy process."
Mr. Mineo's father Charles bought the building for $495,000 in August from Tallulah chef-founder Shawn Whalen.
Mr. Whalen "has been very supportive and is very happy for us. I talk to him several times a week," Frank Mineo said.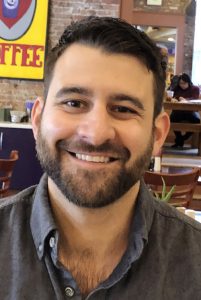 He said his restaurant is "going to be of similar calibre to Bistro Tallulah, but the menu and ambience will be entirely unique. We have the direction. We just need to narrow down the specifics. I really want the chef to be able to express his creativity and his passion."
Mr. Mineo said he'll announce the chef's name soon. He also said getting the space ready is "going smoothly, but we don't have a timeline yet."
Mr. Mineo is a 2006 graduate of Queensbury High School and earned a degree in history and political science at Catholic University in Washington, D.C.
"I've had 15 years in the restaurant business," he said, listing Chianti in Saratoga, George's Restaurant (his first job), Cirelli's Osteria, Luisa's and Downtown City Tavern as some of the places he has worked.
"I will be in the front of the house," Mr. Mineo said. "That's my expertise."
Mr. Mineo's family has deep local restaurant roots. His mother Debra Jordan owns DJ's Nite Club in Lake George. "My mom has been a great help," he said.
Mr. Mineo's wife Ali is the daughter of Peter and Susan Gazetos, and works at New Way Lunch, the family's 99-year-old business that operates restaurants in Glens Falls, Queensbury and Warrensburg.
Ali gave birth to the Mineos' first child, Sophia, on Sept. 7. "Ali and Sophia are doing great!" Frank said.
He said Ali "will be back at New Way Lunch when she returns to work. She will be supportive but not be at the restaurant."
"I've also worked at DJ's, and I help out at New Way Lunch when they need it," he said. "I was over there last week."
Mr. Mineo said the Gazetos parents "are so excited. They have great insight, and are helping me navigate this path."
Copyright © 2018 Lone Oak Publishing Co., Inc. All Rights Reserved.