By Mark Frost, Chronicle Editor

Steve and Sylvia Ovitt are as northern New York as it gets. He grew up in a dairy farm family in Argyle. Sylvia (Liebig) grew up in Granville where her father farmed too. They met at a 4th of July party that went on for days at an Argyle farm.
Steve retired after 25 years as a New York Forest Ranger, developing particular expertise in search & rescue and fire-fighting that put him in leadership roles nationwide.
In his youth, "all the time my dad and my uncle spent dragging me off into the woods, all over, hunting and fishing. My dad's side of the family was originally from Corinth area and we had a camp in Stony Creek. I still have a camp there today — in West Stony Creek.
"Heck, I can remember at 16, walking and seeing trail markers. What's this? We were actually walking on a real official trail. Up until then it was bushwhacking, on little hunting paths here and there, in the middle of nowhere."
The Ovitts settled in Wevertown near North Creek, northwest Warren County. When Steve retired as a ranger, he and Sylvia launched their business — WPM [Wilderness Property Management] Trails — "a Recreation Development Company….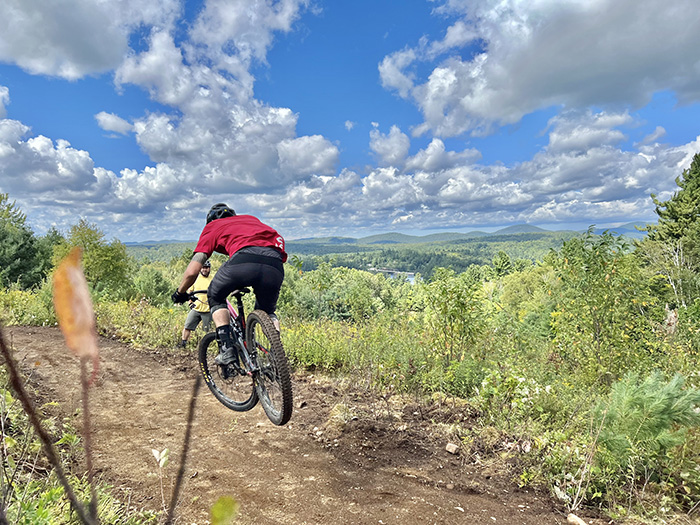 "We have been providing human powered recreation consulting services, trail system design, trail design and construction since 2012. We primarily create mtb [mountain biking], hiking, backcountry ski and nature trails."
In July, they celebrated "the completion of 100 kilometers of new sustainable high quality mtb trails that WPM Trails has built in southern and central Adirondack communities….
"The list of communities include North Creek, North River, Long Lake, Brant Lake, Chestertown, Indian Lake, Inlet, Queensbury, Wilton and Greenfield. All of the trail systems are located in the Adirondack Mtns.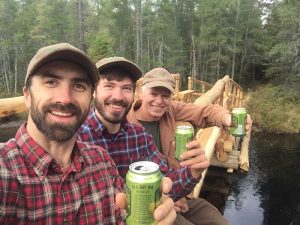 "The Gurney Lane trail system in Queensbury has spent a number of years ranked as the number 1 mtb trail system in NY by Singletracks. All of our trails meet the highest level of sustainability and recreational quality available in North America."

•
Steve touts "how a professional design actually creates an incredible resource rather than just another trail."
Sylvia chimes in, "And they're sustainable, and that means the upkeep is really easy because they're not going to wash out the next storm that comes through."
Steve details a project in which they moved a lot of rock. But when you look at it, it just looks totally natural."
He said they installed "natural stone steps" that help keep hikers/bikers to the trail and protect fragile species and terrain off the trail.
"So that's the wilderness part. There's a trail this way, right up through that rocky call. Everybody's getting up through, coming down just fine. And everything's green besides it.

•
Steve in his 60's is an active mountain biker. Sylvia hikes.
•
They both use the trails they develop — and they both work the business.
"I'm that operations person, and I was in the Rangers, doing all that stuff," Steve says. "Sylvia's a business person, and that's why it works — because you got to stay in business to do this other stuff."

Steve comes at it with a multi-pronged passion for the wilderness.
"I'm such a believer in Article 14, the Forest Preserve part of the State Constitution," he says, "that I feel whether it's part of that forest preserve or not, if we're here in the Adirondacks, that's what we need to instill — that that's what makes our place the place it is." [Article 14 says in part: The…forest preserve…shall be forever kept as wild forest lands."]
"To think of where we live," says Steve. "You've traveled, we've traveled all over — and you come back here and the resource of the Adirondacks, living where we live, is a gift, this forest preserve. And most New Yorkers could never fathom what a gift it is."
He laments, "We've willed it to the state and they've marginalized the recreational resources such that communities in this incredible, incredible resource, recreation destination are dying."

"I'm all about wilderness," Steve says, but "this recreation stuff needs to be around communities so that it supports an economy." He suggests great trails warrant tourism promotional dollars as much, maybe more, than big events.
"In the economic end of this, when you build a trail system in an area, that's an event that happens every day, all season, year after year…" As to "big events," he says, "I have nothing against that, everything in its place for everybody. But…our event lasts for decades, and the community gets to use it and it generates a true recreation economy."
Steve says two years ago the Ovitts went to Bentonville, Arkansas for their Professional Trail Association Conference. "It's like biking heaven." Steve said.
"Bentonville…is the Walmart corporate headquarters," he said.

"They couldn't get good talent into their corporate headquarters. It's sort of hard to get people [to come there for jobs].
"So they hired a consultant to do this study and figure out what it would take to draw top talent" and that they found it's "mountain bike trails, running trails, interconnected community, cafes, restaurants, lifestyle community."
He said Walmart has "unlimited resources, so they get started building trails. They are at over $30 million into their system now. We rode [bikes] up a building. It's the only one in the world where you can ride six floors to the top."
Sylvia says biking trails they've built at the North Creek Ski Bowl likewise helped advance town-recreation connectivity.
"The Ski Bowl has several loops there. They have bike trails up there, very popular with a lot of people and it's very long.
"But the people who work at the Health Center walk on that trail during their lunch break….We have a trail from the library that goes right across the road to the Ski Bowl."
Steve adds, "You can live on Main Street and you can walk out and do everything at the Ski Bowl. You can do that loop, you get mountain views, you get stream views, you get forest views.
"Then you get a good piece of exercise, you can continue up the mountain to get a more Adirondack kind of thing. There's the long mountain bike trail for upper and intermediate advanced riders."
He said advanced trails draw visitors from afar. "People that travel are avid mountain bikers. There's not too many places where you can ride three and a half miles up."
Steve is as focused on the local draw.
"The very first trail that we built in Brant Lake, at the Mill Pond, for Drew [Cappabianca's] Hub [bike shop/restaurant] there."
Working on the mountainside behind The Hub, Steve says their first priority wasn't a bike trail but a "viewshed overlook of Brant Lake, because it drives me nuts, in the Adirondacks, there's community kids growing up, there wasn't a single place, publicly accessible place, to walk up the mountain and look down on your community. You can't even look at the namesake.
"And so we created that and talk about satisfaction! The first year we did that, and then we went to build and bike trails.
"Carl Heilmann goes up there, takes a picture of Brant Lake from that viewpoint that we created…and…that was the main item for the Brant Lake Association fund-raiser for the year.
"And now you see busloads of kids and then camps and the local kids, people, just walking up there and looking down there. That's community impact."
Copyright © 2023 Lone Oak Publishing Co., Inc. All Rights Reserved