The Winter World University Games, billed as "the largest winter multi-sport collegiate athletic event in the world, after the Winter Olympics," comes to the Adirondacks from January 12 to 22.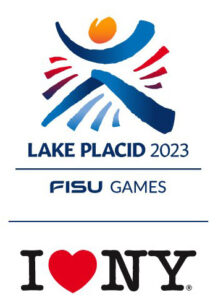 The Games' nine venues include the Olympic Center, Speed Skating Oval, Olympic Jumping Complex, and Mt. Van Hoevenburg in Lake Placid; Gore Mountain; Whiteface Mountain in Wilmington; the Roos House at SUNY Canton; and SUNY Potsdam's Maxcy Ice Arena and Clarkson's Cheel Arena, both in Potsdam.
Headquarters is the Olympic Center in Lake Placid.
"The 11-day international festival and competition combines high-level sport with educational and cultural events," says the FISU Games website.
About 1,500 collegiate athletes, ages 17-25, from 600 universities in 50 countries are to compete in 12 sports: Alpine skiing, biathlon, cross-country skiing, curling, freestyle and freeski, figure skating, ice hockey, Nordic combined, short track speed skating, snowboarding, ski jumping and speed skating.
Find details, full schedule and spectator tickets at lakeplacid2023.com.
The opening ceremony, celebrating the athletes and their countries, is Thursday, Jan. 12, from 7-9 p.m. in the Olympic Center's Herb Brooks Arena, Lake Placid, "home to the Miracle on Ice," U.S.A. Hockey's 1980 Olympic gold medal win, they note. Tickets: $45.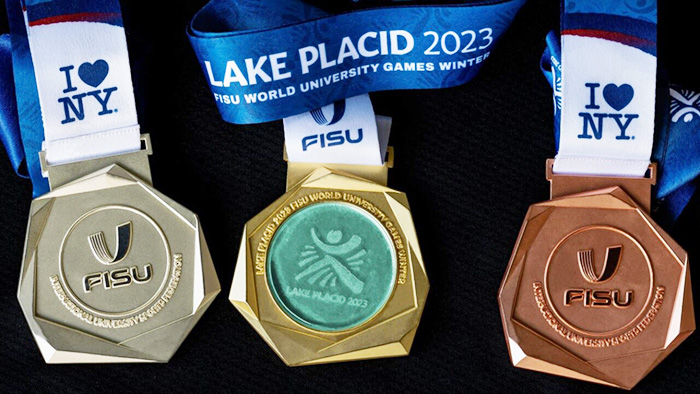 The Village of Lake Placid hosts the nightly FISU Games Festival, with nightly live music, ice sculptures, more.
FISU stands for "Fédération Internationale du Sport Universitaire," the International University Sports Federation.
Competition begins on Wednesday, Jan. 11, with Men's and Women's ice hockey games in Potsdam and Canton.
Gore Mountain hosts snowboard and ski events beginning Thursday, Jan. 12. These include Big Air and Snowboard Cross, Freestyle and Freeski ski contests. Spectator tix $15.
Glens Falls' Sidekick Creative designed the podium medals for the games. Some 250 gold, silver and bronze medals are expected to be awarded in 12 sports and 86 events. The asymmetrical, multi-faceted form, inspired by ice, departs from the traditional circular medal shape, FISU said. The medal centerpiece is an inlaid phosphorescent recycled glass disc, engineered and produced at Alfred University.
Adirondack Studios in Argyle designed and built the 12-foot cauldron that houses the FISU Games' symbolic flame. Adirondack Studios also designed the LED-powered torch for the games' lead-up torch run in early December.
Governor Kathy Hochul's office said the games were made possible in part by a $550 million investment, including $104 million renovation of the Olympic Center, with the aim "to help reposition the region as a global winter sport destination."
The 1980 Herb Brooks Arena and 1932 Jack Shea Arena were renovated, the Speed Skating Oval reconstructed, refrigeration plant upgraded, and guest spaces enlarged and redesigned.
Copyright © 2022 Lone Oak Publishing Co., Inc. All Rights Reserved