By Cathy DeDe, Chronicle Managing Editor
How many of you still remember Diane Struble?
In August 1958, the 25-year-old single mother of three young girls became the first person to swim the length of Lake George. It caused a sensation that drew thousands and landed her on national TV.
Nearly 60 years later, the Lake George Historical Association commemorates the feat with a new exhibit at its museum at 290 Canada Street, Lake George Village.
A community sharing at 6 p.m. on Wednesday, Aug. 26, will include screening of a short film plus talks by Struble's daughter Gwenne Rippon, who was 4 years old at the time of the swim, and by George Ferris, who swam the lake in 1983.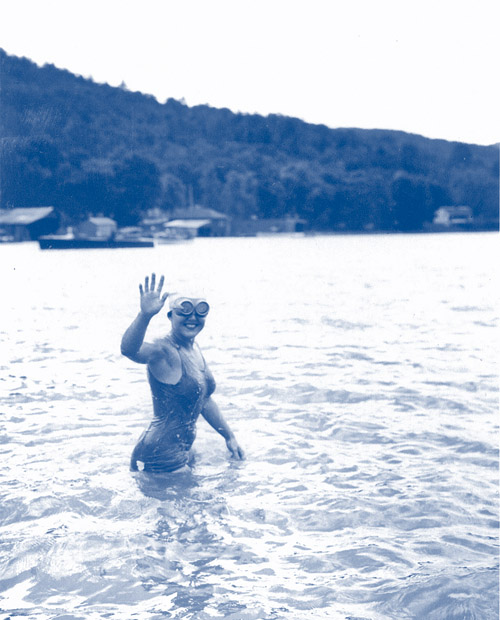 Most important, Ms. Rippon tells The Chronicle, she seeks first-hand memories of people who have their own or family memories of the event. She'd also like to hear from others with personal experience of endurance swimming in Lake George.
"I want to know what it was like," Ms. Rippon said. "It's not something my mother talked about much."
Struble passed away in March 2006. "Like many people who are high energy and high achievers, she was a complicated person," says her daughter.
The Lake George swim was a milestone that Struble later called her greatest achievement, matched only by raising her children. But she was also a life-long adventurer, Ms. Rippon says.
Struble had a total of six children though three marriages — including to Paul Lukaris, who owned Animal Land across the road from Storytown, U.S.A. (now The Great Escape). He masterminded Struble's swim and surrounding publicity.
The Historical Association exhibit includes a diorama created by Marisa Muratori of Mountain Industries, as well as photographs, newspaper clippings and other memorabilia of the swim.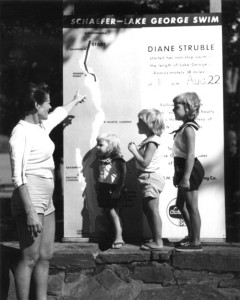 Struble grew up in Scotia, and she spent summers in the Adirondacks with her mother — also a single mom — and grandmother. At age 12, Diane swam the lengths of the small Adirondack lakes they visited, while the grown-ups canoed beside her, Ms. Rippon says.
Struble's first attempt to swim Lake George in 1950, at age 17, was thwarted by storms, inadequate planning and lack of support, says a history compiled by Ms. Rippon.
Still, Struble swam an estimated 25 miles, zig-zagging through heavy waves and fog. She went north from Lake George Village toward Ticonderoga. Her mother finally ordered her out of the water.
After several additional preparatory swims, and this time with trainer Sylvester Kneeshaw and Lukaris — who was then president of the Lake George Chamber of Commerce, Struble entered Lake George at 10:29 on Friday morning, Aug. 22, 1958.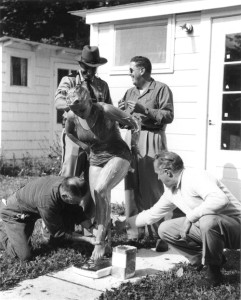 This time she went from north to south, starting, in fact, about a half-mile north, in Ticonderoga Creek.
Some 35-and-a-half hours later, she had swum a zig-zagged 41-mile course non-stop through dark night, daunting cold and choppy waves, to land at the Marine Industries Dock in Lake George Village at 10:01 on Saturday night, Aug. 23.
Reports at the time said 10,000 people and 200 boats greeted her arrival.
Albany's Times Union covered it. WWSC radio in Glens Falls broadcast it live, drumming up a frenzy of local excitement, Ms. Rippon says.
Struble became an instant celebrity. It helped that she was young, blonde, beautiful, personally ambitious, witty and kind, her daughter recalls. Struble appeared on the Today Show (in her bathing suit), on the TV panel show To Tell The Truth, and more. She received $2,500 for the feat from her sponsor, the Schaefer beer company.
When not in her bathing suit, Struble wore a dress printed with a pattern of Schaefer beer logos, her daughter laughs.
Before the swim, Struble coated her body with five pounds of grease to ward off the cold, reports said. She dined before the swim on two big steaks. Along the way, she drank nearly five quarts of beef broth as well as a quart and a half of orange juice mixed with honey, and ate 22 Hershey bars, several hamburgers and other sustaining fare. Yet she lost more than 15 pounds in the course of the swim.
Ms. Rippon remembers mostly how the event impacted her and her sisters: "We were photographed a lot," she says. "They put us in a boat at the end of my mother's swim and brought us out to cheer her on. Freddy Carota from the radio station coached us to yell 'Hip Hip Hooray, Mommie.' I remember my little sister Debbie, who was 2, saying, 'Look at my little mommy in that big water.'"
Ms. Rippon says that current Lake George Mayor Bob Blais, who was then a Lake George police officer, drove Struble to the start point in Ticonderoga and delivered half a pound of hamburger from Elvern Barnes Diner to meet her at Silver Bay.
Mr. Blais said in his 2014 memoir A View From the Top that the crowd that greeted Ms. Struble at the finale was the largest he ever witnessed in Lake George.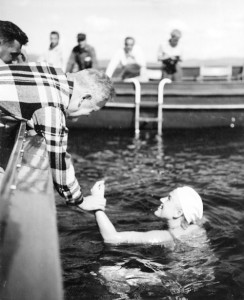 Lisa Adamson, 11 years old at the time, calls Struble "my first real-life heroine" in her written memory of the event,
Ms. Rippon recalls, "My mother said, 'If I can convince even one person that faith can move mountains, then this swim would have been worthwhile.'"
Struble went on to swim the width of Lake Champlain, around Manhattan Island in New York City and across Boston Harbor.
The entire family lived and worked at Animal Land in the summers, Struble as a celebrity animal handler who wrestled alligators, among other attractions.
"She never let the word 'fear' enter her vocabulary," Ms. Rippon says. She says Struble, as a teenager, convinced her father to buy her a horse that no one else could ride.
"She once drove through a hurricane just to see what it felt like," Ms. Ripon says. "She would never lock her doors even when any reasonable people in the neighborhood would."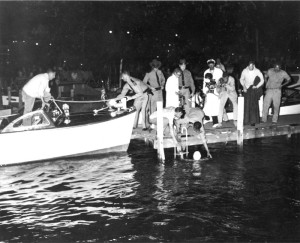 Ms. Rippon says the Aug. 26 event is to celebrate her mother's achievement, share her story, continue amassing as much first-hand knowledge as possible of Struble's singular, and, hopefully, to encourage more people to build the endurance swimming community on Lake George.
•
Contact Gwenne Rippon, or share your stories online — especially if you cannot attend the August 26 event — by emailing dianestrublelg@gmail.com. The museum is located in the former county courthouse at the north end of Shepard Park. Historical Association info: 668-5044.
Copyright © 2015 Lone Oak Publishing Co., Inc. All Rights Reserved.