By Cathy DeDe, Chronicle Managing Editor
"Trekonderoga" — a new convention for Star Trek fans — is set for Labor Day weekend in Ticonderoga.
Organizers say it will feature an A-list line-up of Star Trek writers and actors, including Sally Kellerman, tours of exact replicas of original Desilu Studio Star Trek sets, screenings of early episodes and of New Voyages "fan films" created in Ticonderoga, and workshops in filmmaking, costumes and make-up. Ticonderoga native James Cawley — best known as a professional Elvis Presley tribute artist who tours the country "full-time" — is the creator and head of Retro Film Studios, which built the duplicate Star Trek sets and creates fan-driven Star Trek New Voyages episodes.

Ticonderoga is still his home base, and Star Trek another of his passions.
"We just moved into a new 13,000 square-foot building in Ticonderoga, where there is room for us to host events like this and bring people through," Mr. Cawley tells The Chronicle.
"We had been thinking about doing this for a long time, and now we can."
The New Voyages episodes are written, acted, costumed and performed entirely by volunteers — who come from around the world "even Australia," Mr. Cawley says.
The draw is "huge," he adds. "We just finished a two-week shoot, and we had 216 people here. They stay in the hotels, eat in the restaurants. It's a very good thing for the town."
Like a Star Trek 'Field of Dreams'
"It's like a Star Trek 'Field of Dreams.' If you build it, they will come," says Mr. Cawley.
"We don't make any money on the episodes," which are available online at www.starteknewvoyages.com. "We have millions of hits on that Website, but CBS has the copyright. They give us permission to do it, but we can't charge anything. We do make money on these side events."
The original series ended filming in 1969. Mr. Cawley says he first got involved with the "new Trek" movement in 2003.
"We have a lot of writers and actors who were involved in the original show, too."
Special guests at Trekonderoga are to include Sally Kellerman (who also played Hot Lips in the original M*A*S*H movie), Don Marshall (Lt. Boma in the Star Trek episode "The Galileo Seven"), actress BarBara Luna (Marlena Moreau) — "one of Captain Kirk's, conquests, I guess," Mr. Cawley laughs. She'll host a screening of the "Mirror, Mirror" episode.
Author David Gerrold will host a screening of "The Trouble with Tribbles," an episode he wrote.
There will also be a viewing of the Star Trek: The Next Generation episode "Yesterday's Enterprise," with narration and commentary by the author, Eric Stillwell.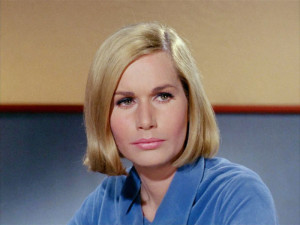 "We're holding registration to just 300 people so that it can be a really intimate experience for the fans," co-promoter Gary Evans of South Glens Falls said in the press release.
"The photo ops alone will be fantastic. Getting your photo with original stars on the 'Bridge' of the Starship Enterprise is pretty cool for a Star Trek fan."
Convention admission is $40, with additional fees for movie screenings, photo ops and other select events.
The sets were built from the original blueprints, Mr. Cawley says. "They're so perfect, down to the last detail, it's terrifying,"
Additional activities include a Dealer's Room vendor show, a dinner dance featuring the Mr. Scott's Time Travel Band, autograph sessions, workshops on filming science fiction, episode screenings and more.
In keeping with the pop theme, they will have a Batmobile there, for photo ops.
"I'm also a huge Batman fan," Mr. Cawley says.
The convention is planned as the first of an annual series, Mr. Cawley said.
It is organized by his Retro Studio, with help from the Ticonderoga Revitalization Alliance (TRA), whose director Nancy Archer is quoted, "We see putting on the Trekonderoga convention as a great way to bring a new and different group of tourists to the area."
Mr. Cawley writes in press materials, "This area of the Adirondacks is incredibly beautiful and played a huge role in the birth of our nation. I love having that kind of history and adventure as the backdrop to an event focused on adventure in the 23rd century. It's going to be incredible."
The convention runs from Friday to Sunday, Sept. 4-6. Tickets are on sale via the convention's Website at trekonderoga.com, where there is also more information about the convention and its events.
Copyright © 2015 Lone Oak Publishing Co., Inc. All Rights Reserved.