By Cathy DeDe, Chronicle Managing Editor
Seamus, Casey and Brendan Tomb — collectively referred to as "The Boyz" by their mom Suzanne — will graduate from Johnsburg Central School on Saturday afternoon as Valedictorian, Salutatorian and Number-Four in their class of 23 students.
Valedictorian Seamus will attend the U.S. Naval Academy, planning to major in cyber operations. "I like the military environment," Seamus says, especially after attending his grandfather's 50th Merchant Marine Academy reunion some years back.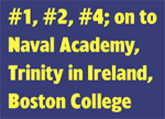 "I thrive on intensity," Seamus says. Later he says he's the funny one, but in an interview, he doesn't crack a smile, all focus. "When I'm super busy, that's when I do the best. I thought I should go to a place where I won't get much free time."
Salutatorian Brendan is headed to Trinity College in Dublin, Ireland, to study civil engineering and also play rugby. "It's one of the best rugby schools in the world," Brendan says. "That was a big part of my decision, to be able to play."
Casey, at #4 in his class, notes that he missed third by a fraction of a point, but he's matter-of-fact about it. He'll attend Boston College for liberal arts, perhaps as a dual major in physics and philosophy. He aims to play percussion in the marching band and to join the rugby team also.
"I didn't know as much what I wanted to do," Casey says. "I applied to 15 or 16 colleges, and then I visited all of the ones I got into. I want a balance of sports and school. BC fit the bill."
Attending a small school, the triplets say they've had opportunity — even responsibility — to do "everything" — sports (particularly soccer), music, clubs, academics.
"They did almost everything together," Suzanne says, branching off only in the last couple of years. Brendan plays rugby with a Foothills league based in Queensbury. Seamus excelled at Nordic skiing. He plays trombone, but expects he'll leave the instrument home, while his brothers expect they'll continue to play music.
The three boys applied to 30 colleges — and it would have been even more except that Brendan was so set on Early Decision at Dartmouth. He held back on other applications, until he was wait-listed and decided to go the Dublin route.
"Yeah," Suzanne sighs. "That was a lot of paperwork."
Do the boys compete with each other? "Oh yeah," they laugh.
Seamus adds, "It's less so now, since we've branched off into our own sports, different things."
"Each one has done the best he could," Suzanne says. "They were always in the same classes, and sports, and music and band, and then their father is in the building too."
Husband Steven teaches high school English, which is how they wound up in town, moving to North Creek when the boys were just two. "They've done pretty well with each other," Suzanne says.
"They've been really focused on each other's happiness in this process," of choosing schools, she adds. "It's nice to see."
Seamus says that as a group they decided "I am the leader, Casey is the most likely to get in trouble, and I am the funny one. Brendan is the strong one."
Casey adds, "Seamus and I are more similar, more extroverted, involved socially. Brendan is more inward."
"Brendan and I are more into music," Casey says. "I like doing a little of everything." Their college choices reflect those differences, Suzanne says.
What about next year, when they go separate ways?
"I've thought about it a little bit," Brendan says, without resolution.
Seamus says, "I know I'll jump right in to whatever's happening at the Academy. I will have a lot to do." He had hoped Casey would land at a school closer to him in Annapolis, "but it'll be okay," he says.
"I'll miss these two," Casey offers.
They said Johnsburg has been a good fit for them. I like having the smaller classes," Brendan says. "We really know our teachers." The school offers numerous opportunities like a 10-day trip to Spain. As fifth graders, the family went along when Steve did a six-month exchange teaching program in India, the boys keeping up with their classmates and class work online.
"We're lucky. We have a great class — all very involved and a very competitive class," Casey says. He notes an unusually high percentage will go on to college next year.
"We've always experienced a lot," Seamus says, "with travel soccer, trips to Boston and D.C." "We know kids from all over the area from our sports," they said.
What's mom going to do with three boys out of the house at the same time? "A lot more yoga," Suzanne laughs. "Really, nothing can prepare us for the energy shift that is coming in our lives."
Steve, listening in as he prepares for a late afternoon run, laughs, "I'm going to unplug a refrigerator and a freezer." They have three going now, he says, to accommodate the appetites of three active teenaged boys.
Copyright © 2018 Lone Oak Publishing Co., Inc. All Rights Reserved.