By Cathy DeDe, Chronicle Managing Editor
From opening number to the final tearjerker snapshot scene, Adirondack Theatre Festival's Loch Ness is massive, impressive, show-stopping, larger than life and utterly likable. It's also not afraid to laugh.
At core the story of a stubbornly rebellious, resourceful and precocious little girl searching for her lost mother, Loch Ness dares to dip into wildly funny side eddies even as it chases heartbreaking emotional truths.
Mother, Annabel, portrayed as a soft-haired Scottish angel by lovely Cathryn Wake, went down in a plane crash on her way from England back to her homeland, where daughter Haley was to join her.
Haley is played by the standout, secret ingredient of Loch Ness — 15-year-old Niskayuna student and Broadway veteran Gabriella "Gabby" Pizzolo, in a performance that is seasoned, wise, nuanced. One crush of her face and we are in her pain. One cheeky retort and we are in her corner.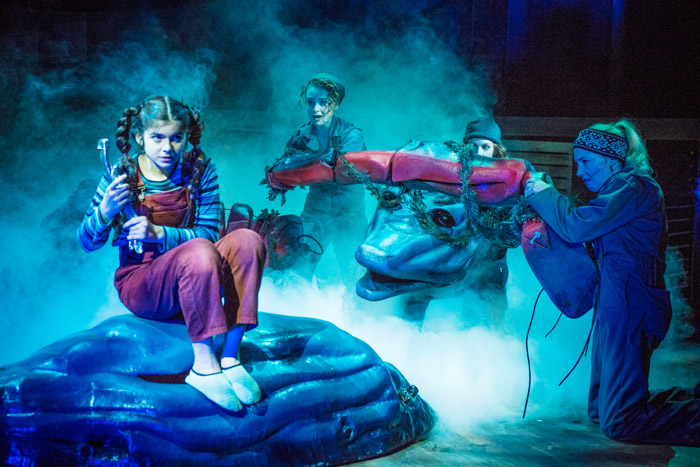 Evan Alexander Smith is Haley's father, Westerbrook, a scientist who takes the child along on the only gig he can get after depleting his resources and his reputation searching for his lost wife in a vain effort to assuage his daughter's distress.
There's a bad "guy" — mercurial Scottish heiress Callahan, played sharp by Laura Hall, who aims to prove the Loch Ness monster is real, for selfish reasons.
There's Nessie herself, voiced by cheeky Lindsay Nicole Chambers and portrayed by a giant multi-part puppet created by AchesonWalsh studios in Brooklyn.
There is comic relief in the form of a couple of straight-laced Norwegian scientists, the wry ship captain CJ (Jon-Michael Resse, back after playing Edison in Nikola Tesla Drops the Beat last year). There's a mysterious "Oilman" who spouts truisms and nonsense, charmingly.
There are song and dance numbers, wrenching ballads, real emotion and slapstick hilarity. It's worthy of all ages, satisfying, exhilarating. One number after another makes you want to shout, or cry.
The set is huge, smart, eyesome, elegantly transformable. The language and lyrics are smart, too, complex and "right." The show plays beautifully with tone, with scale: Little girl, giant monster, large sea, tiny boat. The Loch Ness posters set a tiny silhouetted girl in a boat against the giant form of Nessie at sea. I find myself eyeing them already with a bit of charmed nostalgia.
Loch Ness feels as much like a finished work as any show we've seen from ATF. Pluck it up and put it on any stage: I suspect we will see it succeed wildly.
Loch Ness continues at the Wood Theater in Glens Falls, only to this Saturday, July 14. Info: www.ATFestival.org.
_____________________________________________
'Loch Ness' creators? Oh, by the way: They're father & son
Chronicle Managing Editor Cathy DeDe adds: Nobody told us! A.D. Penedo and Marshall Pailet, the pair who together created the Adirondack Theatre Festival's high-test musical Loch Ness, are father and son.
At the post-opening night party, they explained: Marshall first came up with the story for Loch Ness when he was nine years old. What piqued his interest, his father said, was a family trip to Lake Tahoe, which has its own supposed "monster."
Marshall came up with the bones of the story that remain today, right then, age 9, Mr. Penedo says.
Meanwhile, Mr. Penado added, "I was never artistic, more of an athlete, like my other son," although he is a former English major.
He was at the time a high-power lawyer in New York City, he says, who eventually jumped in to help the now-grown Marshall (age 31), with writing this project. A.D. did the lyrics, Marshall the music. They wrote the book together, and Marshall directs.
A.D. goes by a pen name because when he first started collaborating with his son, it wouldn't fly to be writing musical theater while also at his law firm.
He's since stepped back from the law, working full-out as a writer. Father and son also collaborated on the off-Broadway musical Who's Your Baghdaddy, about a support group for the handful of spies whose maybe questionable intelligence work led to the Iraq war.
A.D. has several plays of his own, now, as well. He is currently working on a trio of one-acts about middle-aged romance, and a memoir, his Website says.
Marshall is a director-composer-writer who first came to ATF to direct last year's Nikola Tesla Drops the Beat.
Copyright © 2018 Lone Oak Publishing Co., Inc. All Rights Reserved.