By Gordon Woodworth, Chronicle News Editor
Greg Teresi and Larry Davis, who introduced their personal floating Tiki bar to Lake George last summer, now hope to offer 90-minute tours this summer.
"We are thinking outside the box to provide people with a unique experience on the lake," Mr. Teresi told The Chronicle.
An attorney in Lake George, he also owns Capital City BrewCycle which runs 15-passenger, pedal-powered tours in Troy and Schenectady. "Our proposal is to operate two boats in Lake George Village from 11 a.m. to 8:30 p.m.," Mr. Teresi said. "They would be 90-minute tours, with six passengers, a licensed designated driver boat captain and a crew member.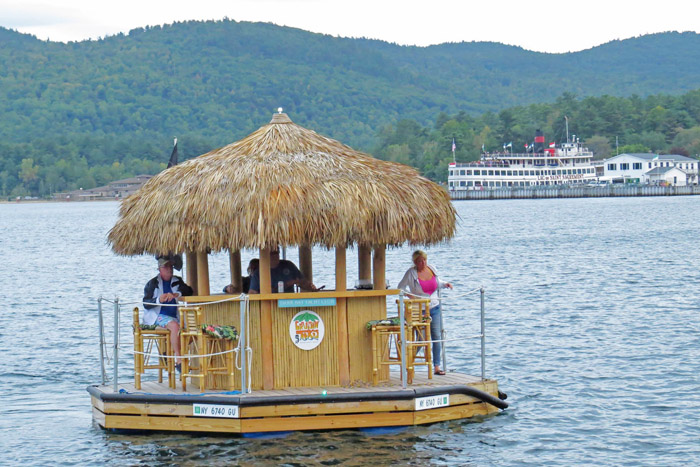 "We would not serve alcohol or food, but would provide a cooler with ice for food and beverages. We just want to provide a different experience for people who don't want to rent a boat, don't know how to drive a boat, and just want to get out on the lake."
The boat has no restroom facilities.
Mr. Teresi, Mr. Davis and Frank Casimo launched the floating Tiki bar last June 20, and it proved popular with their friends.
Now Mr. Davis is building the boats in Colonie, and the first three he makes could be touring Lake George this summer if the Lake George Park Commission approves a proposal from Mr. Teresi and Mr. Davis at its Tuesday, April 25, meeting.
Mr. Teresi said he has an agreement pending with Lake George Beach Club [former Shepherd's Cove] owner Jose Filomena to run two Tiki boats from their docks.
"We would rent two slips, and we are seeking approval from the Lake George Park Commission to operate out of the beach club's Class A marina," he said.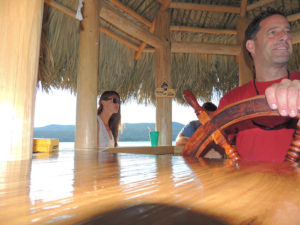 Mr. Teresi said they are still seeking a spot in Bolton from which to run tours.
"I have talked to Mayor Robert Blais about our proposal, and he's all for it," he said. "We have also talked to the folks from Adirondack Safari about running tours for their glamping guests."
A third partner in the Tiki Tours business is Anthony Ali.
Info: www.thetikitours.com.
Copyright © 2017 Lone Oak Publishing Co., Inc. All Rights Reserved.