By Mark Frost, Chronicle Editor
To say that Ralph and Alissa Rimualdo of Queensbury hit the ground running with their 1,500 square-foot Beef Jerky Outlet at The Outlets of Lake George is putting it mildly.
"We opened June 30th and right away every day's been great," Mr. Rimualdo told The Chronicle two weeks ago. "We were number-three in the country for the month of August," of 102 stores nationwide.
"We really put Lake George on the map," outpacing such prominent destinations as the Outer Banks and Myrtle Beach, he said. It's the Rimualdos' first retail venture, but part of a natural business and personal progression.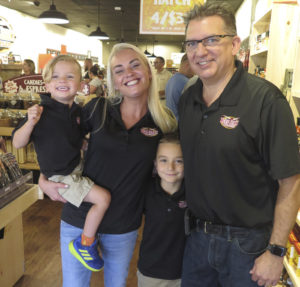 Has Servpro franchise
Mrs. Rimualdo, whose maiden name is Vesterby, is a Queensbury native.
Mr. Rimualdo comes from Syracuse originally, but years ago — when he was working in Tennessee — he decided that if he returned to New York, it would be to the Saratoga-Lake George region.
That happened in 2005. Mr. Rimualdo said he'd been National Account Manager for Servpro Industries outside of Nashville. Eleven years ago he bought a Servpro franchise and moved to this area.
His Servpro of Southern Saratoga County is based in Wilton. It provides residential and commercial restoration and cleaning services.
"I didn't really know anybody," Mr. Rimualdo said. "I joined the Chamber [of Commerce] in Saratoga," which is eventually how he and Alissa met.
Mr. Rimualdo is now a board member at the Adirondack Regional Chamber of Commerce, and Mrs. Rimualdo is an ARCC "Chamber Ambassador."
On Adk. Theatre Festival board
Mr. Rimualdo is also a board member of the Adirondack Theatre Festival. "Nancy Fuller kind of got me involved," he says. Mrs. Fuller and her husband Matt operate Fountain Square Outfitters, the Patagonia store in downtown Glens Falls.
"I was just surprised at the caliber of theatre that exists in the north country," says Mr. Rimualdo, who notes that he actually has a Masters in Fine Arts degree from the University of Miami.
He says his Servpro business in Wilton is doing well — "I have a couple of good managers — and that he and his wife have been on the prowl for a retail opportunity.
"We were both exploring for the last couple of years, a couple of franchises."
Then, he said, Mike Murray at Adirondack Trust bank "called me up from out of the blue" and said Beef Jerky Outlets was looking to locate a franchise here and that "it might be a good fit for Lake George."
"We were literally in the Disney parking lot [in Orlando], leaving the park," says Mr. Rimualdo. They quickly started researching the Beef Jerky chain. It was founded in 2010 and has 100 more stores planned along with the 102 already in operation.
"We were just blown away," says Mr. Rimualdo. "Wow! It was a unique concept. It's fun."
They bought the franchise rights to Lake George, and "the rights to Lake Placid as well," he said.
Says company offers support
Mrs. Rimualdo says, "The thing is with this franchise they're working hand in hand with you. I could call the COO. They called you right back. I was never alone."
She notes that of the company's top executives, "most of them are owners and operators that own stores."
Mr. Rimualdo said that once they made the decision to buy the franchise, the key was where to locate it. They like being highly visible next to the Bass store at the plaza that includes Ralph Lauren Polo.
He said that when they were first scouting the site, "people asked, 'You're not another shoe store, are you?'," and were happy that they were doing something novel.
Mrs. Rimualdo said it took a huge "amount of work and hours…to get this store up and running. Mr. Rimualdo credits Jodie Farr of Farr Construction. "He and his staff really made it happen." He mentions Keith Barton by name as well.
Mrs. Rimualdo said customer response is great. "They love how many jerkys there are, that they're so fresh, and they can sample almost everything in here."
As for a Lake Placid store, Mr. Rimualdo said, "I'm hoping maybe next summer. It really depends on the location. We were fortunate to get this location."
After what he calls "a great, great summer," Mr. Rimualdo is upbeat about autumn. "A lot of the locals kind of avoid the outlets during the summer," he says, figuring there's a whole other sector to tap.
He also points to a board that has already started displaying logos of first responders, which he says is an initiative of Beef Jerky Outlet's CEO.
As to the store, Company literature says, "The Beef Jerky Outlet is home to more than 100 varieties of premium jerky including family-favorites like Prime Rib, Teriyaki and Cherry Maple. For the more adventurous meat-lovers, Beef Jerky Outlet offers exotic jerkies such as Alligator, Venison, Elk, Bison and even Kangaroo."
It quotes Mr. Rimualdo: "Our store is a unique experience that provides an entirely new perspective when it comes to Beef Jerky. We are not your father's Jerky anymore."
The store also sells hot sauces, BBQ sauces, flavored peanut butters and popcorns, rubs, candy and more. Mrs. Rimualdo is quoted: "We rarely see anyone leaving without adding something new to their palate. Many of the products we offer are difficult to find in traditional stores.
Copyright © 2017 Lone Oak Publishing Co., Inc. All Rights Reserved.