By Cathy DeDe, Chronicle Managing Editor
Sunday's 25th Taste of the North Country food festival in downtown Glens Falls brought a huge crowd and banner results.
The Glens Falls Kiwanis Club said they grossed $79,500, a leap from last year's $49,000. It brought the 25-year total to $1.4-million. "Not bad," said event chairman Jerrod Ogden.
He said Kiwanis will net about $32,000, and another $6,000 will go to non-profits and Key Clubs. That's up from just over $20,000 for the club and $4,000 for non-profits last year, said Mr. Ogden.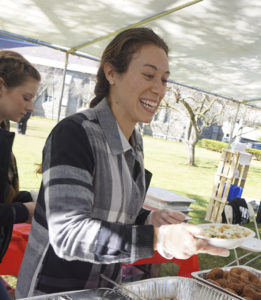 Another $28,500 from this year's gross goes to participating restaurants, apportioned according to how many food coupons they took in.
There were 3,000 paid adult admissions, said Mr. Ogden, who estimated the overall crowd at 5,000 adults, including the 1,500 sponsor passes, 300 volunteers and more than 100 restaurant workers. Children are admitted free, "so we have no handle on the kids" attendance. He noted that at least 170 kids went through the bounce house.
Last year's iffy weather reduced attendance to 2,400 people, he said.
Next year's 26th annual Taste of the North Country is scheduled for Sunday, Sept. 30, and Mr. Ogden said that at least 12 of this year's restaurants have already signed contracts for next year.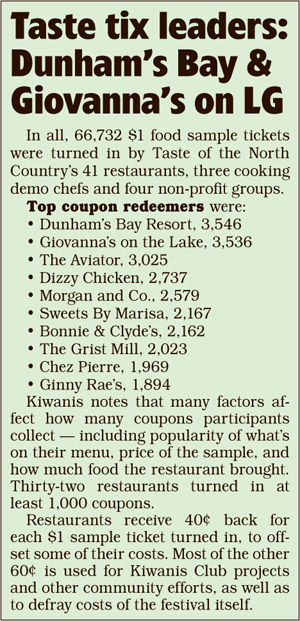 Beyond the great results, Mr. Ogden reports "absolutely zero problems" or citations from the Department of Health, which had a heavy presence on site.
He says, "We had a couple of reminders about which direction forks should face," (handles out!), but "no food temperature issues. The reheating tent and the cooling station were both widely used."
Kiwanis's first-time, collapsible souvenir take-out containers "were very popular," said Mr. Ogden. Attendees bought about 400 of the 500 available containers at two food coupons ($2) each.
As for Mr. Ogden's own favorite tastes at Taste, he said, "I had the ribs from Morgan and Co, Mac and Cheese from Grateful Den, bread pudding from Fort William Henry, and cranberry pudding too (from The Anvil Inn), soup from Kelly's Roots — it was all good, and such a variety.
"Nobody complains about the food."
Copyright © 2017 Lone Oak Publishing Co., Inc. All Rights Reserved.