By Gordon Woodworth, Chronicle News Editor
The Glens Falls Fire Department's investigation of the Sept. 1 boat explosion at Fischer's Marina is complete, but had not been released as of press-time.
Still, its conclusion seems known.
"The cause was human error," Warren County Sheriff Investigator Steve Stockdale again told The Chronicle. "We still haven't received the cause and origin report, but nothing has changed.
"The gas was inserted into the wrong chamber on the boat. Everything very clearly points to that. The explosion was caused when a spark ignited when the operator started the engine."
Joseph Sheehan, 46, of New York City was critically injured when the 28-foot Chapparal he was operating exploded after he bought 15 gallons of gas. Mr. Sheehan had been listed in critical condition at Westchester Medical Center. An update on his condition was not available Tuesday.
Dockhand Hunter Tyminski, 16, of Hudson Falls, was burned on his face and hands but was not hospitalized.
Asked about a WTEN report that the gas was mistakenly pumped into a fishing rod holder, Lt. Stockdale said, "That's what happened. Why that [rod holder] wouldn't have a bottom to it is beyond me.
"They have all of the entry points together, and they all look alike. And the dock attendant was instructed to put the gas there by the operator, who was acting quickly and abruptly and didn't have much time."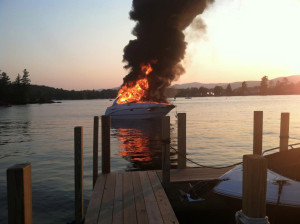 Sheriff's Investigator Kevin Conine told the TV station, "In the far side of the boat, you have to reach across to the gas fill. It again looks just like the water and the waste fills, it's silver, with a two-pronged key. We are unsure if this model had it labeled or not. And if it wasn't labeled it looks just like the rest of the caps."
Lt. Stockdale said the insurance company of the boat's owner called him to get the boat released to them, and that would likely happen soon.
No laws regulate pumping of gas
Are there regulations on fueling boats on Lake George?
Sergeant Joe Johns, the Lake George Park Commission's Director of Law Enforcement, replied, "All marinas on the lake must have a spill response plan, but no one regulates the fueling of boats as far as I know."
Sgt. Johns said he has patrolled the lake for 15 years, and "everyone is very aware of [the explosion], and is really looking to make sure they are doing everything properly."
He said the Park Commission fully supports efforts by the North Queensbury Fire Department to conduct outreach sessions to try to raise awareness in an effort to assist marinas and their employees.
"That's a great thing," Sgt. Johns said. "If the marinas wanted us to come train them, absolutely we would, but I think it's great what the fire department is doing. They are more informed about those issues."
North Queensbury Fire Chief Jeff Baertschi told The Chronicle they're planning to hold a community outreach session this fall, and again in the spring.
Copyright © 2015 Lone Oak Publishing Co., Inc. All Rights Reserved.