The Glens Falls Kiwanis Club's 23rd annual Taste of the North Country food festival returns to City Park in downtown Glens Falls on Sunday, Sept. 27, from 11 a.m. to 3 p.m. Rain or shine.
Specialties from 37 area restaurants will be served in sample sizes. Nine restaurants are participating for the first time. "Come early for best selection!" urge the Kiwanians.
Admission is $5 for adults and free for children under age 18. Food coupons are now priced at $1.00 each. Samples are mostly priced from one to five coupons.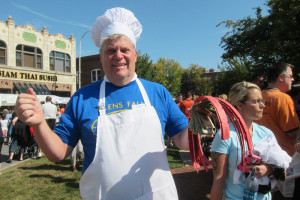 Note: Taste will again be staged around the edges of City Park, not on the grass as previously announced. The City decided on Monday that the traditional "Taste" layout would be too much strain on the Park grass.
Taste is a complete family festival. Entertainment is provided by the hilarious Mr. Twisty (Mark Frost's favorite), Andy the Music Man and Bobby Dick & Suzy Q.
Not-for profit groups sponsor an array of kids' activities.
Kiwanis Club of Glens Falls is celebrating its 90th year. Taste nets the club approximately $50,000 for its civic endeavors. The Chronicle has been Taste's lead sponsor for all its 23 years.
Copyright © 2015 Lone Oak Publishing Co., Inc. All Rights Reserved.