By Hannah Hughes, Chronicle Summer Staff
"All paddle forward!" echoes from behind you as you stick your oar into the river. The raft spins and crashes into a wave, splashing you as the rough water laps over the side.
Smiles and laughter ring out as each swell seems to top the last. Sounds exciting, doesn't it?
There isn't really any other way to duplicate the feeling of being on a whitewater raft, the anticipation of what's ahead, the mutual trust between you and your guide, and of course, the adventure and the excitement of the activity itself.
Although I was very nervous before my first rafting trip a few years ago, it has quickly become a favorite experience and memory of mine. I jumped at the opportunity to raft again!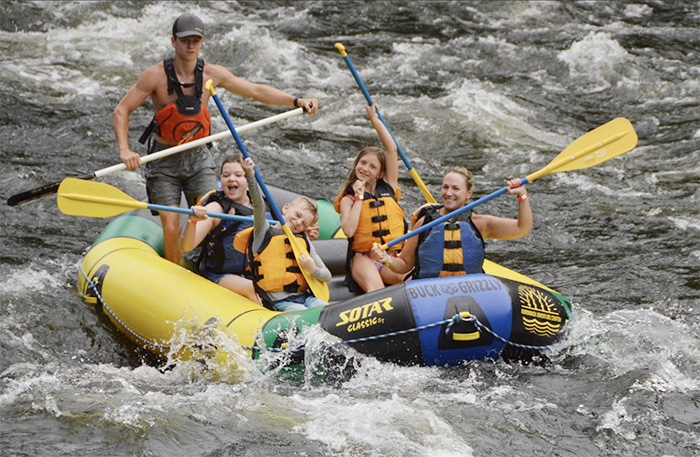 And although it is considered an "adventure sport," whitewater rafting can be great for families and doesn't require a ton of experience to enjoy yourself.
On assignment by The Chronicle, I went Monday with the Adirondack Adventure Center. Based in Luzerne, The Adventure Center offers rafting on the Sacandaga, which offers Class II and III whitewater.
The waves make for a thrilling experience, but are not too intense for kids or first-timers. There is even a swimming section where you can float beside the raft on a calmer area of the river.
But what really makes the trip are the people you meet. After you get on the bus with fun and outgoing driver "Uncle Artie," you're introduced to your guides.
They are well-equipped with knowledge, skills, and plenty of jokes to get you down the river having as much fun as possible. My guide, Devin, was great with the kids on our raft, and kept us all safe and smiling. It is clear they enjoy what they do and are happy to share it with others.
Whitewater rafting is truly one of the most exhilarating and unique experiences the Adirondacks has to offer, and Adirondack Adventure does it right. From the moment you arrive, you can tell you're in excellent hands that aren't only going to keep you safe, but make sure you have a great time too!
Rafting biz has tougher go in '23

By Hannah Hughes, Chronicle Summer Staff
It's been a challenging summer for area whitewater rafting and tubing businesses.
"This entire season of 2023 has had some pretty adverse weather conditions," said Jamie Delong, Tubby Tubes River Co. Operations Manager and part owner.
Tubby Tubes, based in Lake Luzerne, operates on the Hudson River, which has reached high levels with recent rainfall.
High water levels can create myriad issues for the companies — like flooding or limiting accessibility to access points, which are regulated by the NYSDEC.
"If we can't put in or take out because our access points are covered in water, that's where we run into major problems," Ms. Delong said.
Just the forecast of bad weather can dampen business. Even if there is a slight chance of rain, people have "already pre-planned their indoor activities," Ms. Delong said.
On the Sacandaga River, a tributary of the Hudson, a dam regulates flooding. In mid-July water hadn't been released in a week because of high water levels.
That's forced rafting businesses to close down or limit operations.
"It's been pretty bad," said Dane Morton, owner of Adirondack Adventure Center, which operates on the Sacandaga.
Sacandaga Outdoor Center, which operates where the Hudson and Sacandaga rivers meet, has had a similar experience.
"It has affected pretty much everyone in this industry negatively because of the unprecedented flooding on the Hudson," said its president John Duncan.
"I've never experienced this in 35 years here," he added.
Wild Waters Outdoor Center operates on both the Sacandaga and Hudson. Owner Doug Azert says they haven't had to stop trips, but they've needed to "be a little more creative on which sections of the river that [they] raft on."
After years of a Covid-boom, rafting businesses say 2023 has been slower.
"Covid had such a large effect on everything… [We] had crazy summers these past two years, this year it's kind of gone the opposite way," Mr. Morton said.
"Everybody seems to be going through the same kind of post-Covid crunch right now."
Mr. Azert says Wild Waters is still trying to "figure out what the new norm is."
Ms. Delong says Tubby Tubes is busy when weather cooperates, but closures and restrictions have taken a toll
.
"Numbers are significantly down… This is a business that gets greatly impacted by the weather," she said.
Mr. Duncan said at Sacandaga Outdoor Center, "Very early on we had hot, dry weather which was great…It was followed by very cool, wet, weather, which typically isn't particularly good."
Tourism in Lake George and Saratoga greatly impacts the rafting business.
"If those two tourism bases are doing well, and there's a lot of occupancy, then typically we do well also," Mr. Duncan said. "Conversely, if business is off a little bit for whatever reason, economy, weather, we'll feel that."
The businesses still believe the season can rally.
"We're hopeful…we'll have nice, hot, sunny days from here on out and lots of rafters coming to join us," said Mr. Duncan.
Mr. Azert said, "You do a whitewater rafting trip with your family, it is a memory that people have forever."
"I've had people come back to me who have memories of rafting with their parents, and they wanted to bring their kids to have that same… special experience."
Rafting, tubing big biz
Area tubing and rafting businesses attract customers by the tens of thousands.
Tubby Tubes says it sees anywhere from 12,000-17,000 customers per year.
Sacandaga Outdoor Center, with both the Hudson and Sacandaga Rivers, sees about 30,000 to 35,000 rafters.
Wild Water Outdoors Center, 16,000 to 18,000.
Adirondack Adventure said it sees about 40,000 customers total for tubing, rafting, and their treetop course, with about 10,000-12,000 of those people rafting. — Hannah Hughes
Copyright © 2023 Lone Oak Publishing Co., Inc. All Rights Reserved