Country-rock artist & teacher Katy Cole takes Johnsburg podium
By Cathy DeDe, Chronicle Managing Editor
By day a school music teacher, by night a country-rock star: That's Kathryn 'Katy' Cole, the Johnsburg Central School teacher who was selected by the senior class to give the commencement address on Saturday, June 25.
"I only just started teaching there in mid-February," Ms. Cole said. "So, I was totally honored. I was really touched they asked me to do that."
Ms. Cole, frontwoman and driving force of the highly successful country-rock band Last Daze, graduated herself from Johnsburg in 2002. She was hired back there this winter as interim band teacher — and has since been selected to be full-time Music and Chorus teacher.
"It's my dream job," Ms. Cole says. "I actually became a music teacher with the hopes to take over at Johnsburg. I did my Master's thesis on developing a K-to-12 vocal-general music curriculum for a small school. I'm so excited to implement it."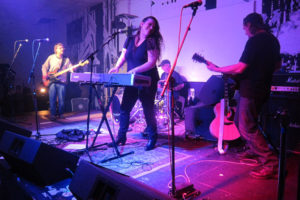 She got her Bachelor's degree in Music Education from The College of St. Rose in Albany, and her Master's for Music Education and Vocal Pedagogy at Boston University.
Graduation, then on tour
After graduation, on Wednesday, Ms. Cole and the band leave for a tour of the Midwest — to Buffalo, Cleveland, Chicago, among other stops — with plans to be back in town for a hometown show and CD release party touting their latest recording, on July 8 at the Indian Lake Theater.
The party is for their latest EP, a recording of Love and Affliction, a themed musical suite Ms. Cole wrote and has been playing out for about a year. She calls her sound Adirondack Country, by the bye.
The EP is expected to be out on July 9, she said, but they aim to have copies at the North Country show on the 8th.
Shooter Jennings connection

She and the band connected with outlaw country music singer-guitarist Shooter Jennings, Waylon Jennings' son.

Shooter produced the band's first CD, last year's Symbols & Snares. Ms. Cole contributed vocals to Mr. Jennings' latest album with his band Waymore's Outlaws, for the fourth track on the CD, "I'm Left, You're Right, She's Gone."

During the school year, Last Daze plays out on weekends only, obviously, "We play regionally and record. I'm thankful to be in a field I love so much, being a teacher and playing in the band."
She notes, too — it's not just rock and country. "I'm classically trained. I do sing opera and stuff, but the rock and roll is working for me now, and the kids relate to that a lot."
Earlier this month, Ms. Cole and the band opened for Shooter Jennings and Waymore's Outlaws at a show in Pennsylvania — then Ms. Cole sat in with Mr. Jennings on her song when they played it.
"75 percent of is band is in the Country Music Hall of Fame," she says. "That's pretty amazing."
She said, "The kids are pretty cool about it. They know I'm out on tour, and the last two months have been a lot busier for the band. The kids always ask me on Monday where did you go this weekend."
She says, "I think I show them, you can have a stable career and still pursue your dreams."
She said she and her young daughter aim to move from Glens Falls back to North Creek. "It'll be nice to see her graduate from my Alma Mater."
Mentored Sawyer Fredericks
Then, there's also the Sawyer Fredericks connection. He is, of course, the bowler hat-wearing winner from Season 8 of the NBC reality music competition, The Voice.
"I was his mentor for three years," Ms. Cole explains. She had a gig running a children's chorus through a music program in the Amsterdam area, and the then-11-year-old Sawyer, of Fonda, was one of the kids in the group. She was living in Cobleskill at the time, she says, and he came to her for private lessons.
"He was so good. One weekend, he just picked up a guitar, and he came in having learned seven chords. I would bring him along to play on my shows with me."
She laughs, "Having seen Sawyer's success, the kids at Johnsburg, they really listen to the advice I give them."
What about the speech?
What will she tell the students at graduation?
"I've been working on a couple of versions of the speech," Ms. Cole says. "My own path has been less than straight and narrow.
"I think I'll talk about rolling with the punches that life throws at you, and not to be afraid oft he choice that life gives you. It's better to fail than not to have tried."
She adds, "I had a lot of great teachers at Johnsburg, and some of them are my colleagues now. The best advice they gave me was, don't go to college for something you're good at. Go for something you love."
"That's how I feel about teaching. I've never been so happy. It's beautiful to be here and working with my friends' children and teaching them about music. It's really rewarding."
Copyright © 2016 Lone Oak Publishing Co., Inc. All Rights Reserved.