By Cathy DeDe, Chronicle Managing Editor
The New York State High School Boys' Basketball Tournament returns to the Cool Insuring Arena, Friday to Sunday, March 18 to 20.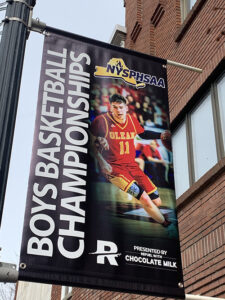 "The road to New York State basketball is right through Glens Falls," says tournament director Arthur "Chip" Corlew, the athletic director of Glens Falls School. "We're ready,"
It's been a dry five years for Glens Falls. After 36 years as host — 1981 to 2016 — the City lost the tournament bid to Binghamton for the three-year period of 2017-2019.
Glens Falls won the tournament back for 2020-2022. But then Covid struck. The event was cancelled in 2020 and 21.
This return in 2022 marks the start of Glens Falls' three-year contract, now extended to 2024.
Mr. Corlew expressed gratitude and appreciation for New York State Public High School Athletic Association executive director Robert Zayas for "their support and hard work."
This year's tournament "will be no different" than past ones, Mr. Corlew said.
"It's the same tournament, with the same planning. We are making sure everyone is ready to go. We have more than 77 volunteers working hard and planning."
But he acknowledged, "We've lost some key people." Bill Wetherbee, who died in September 2021, "was always at the scorers' table and he was the announcer."
Bill Higgins, who passed in February 2020, was the long-time chair of New York State basketball "and a big part of the tournament."
"We have guys in place ready to go," said Mr. Corlew. "Art Wexler is running the scoring table and he's amazing."
"We're hoping the community gets out and supports the tournament, not just if their teams are in it," Mr. Corlew said.
"We hope people will come out and see some good basketball, played in the house where basketball is meant to be. There are always surprises, always great teams.
Area Section 2 teams competing include Stillwater, Green Tech, Ichabod Crane and Oppenheim/Ephratah-St. Johnsville.
"It's a great experience in Hometown USA. It's safe, and we're looking forward to seeing some people we haven't seen in a while, from the 30+ years the tournament has been here."
Meanwhile, the New York State High School Girls Basketball tournament returns to Hudson Valley Community College for the 25th year, Friday through Sunday, March 18-20. Hartford Central School's girls team is seeking the Class D State Championship. They play Copenhagen Friday at 8 p.m.
Tix: gofan.co/NYSPHSAA.
Copyright © 2022 Lone Oak Publishing Co., Inc. All Rights Reserved