By Mark Frost, Chronicle Editor
Activist Ralph Nader, who calls Matt Funiciello "democracy's baker," will come to Glens Falls this Sunday, Sept. 14, in support of the Rock Hill Bakery owner's Green Party candidacy for Congress.
Mr. Funiciello is challenging Republican nominee Elise Stefanik and Democratic nominee Aaron Woolf.
Mr. Nader will speak at noon at the Charles Wood Theater on Glen Street, joined by Mr. Funiciello and by Howie Hawkins, the Green Party candidate for governor. Mr. Funiciello will introduce Mr. Nader for a talk and book signing of Unstoppable, said press information.
Suggested donation is $20.
Mr. Nader will also be at Rare Earth Wine Bar in Glens Falls at 10:30 a.m. for a private brunch with Green Party supporters. $100 includes seating at the Wood Theater event and a copy of Unstoppable.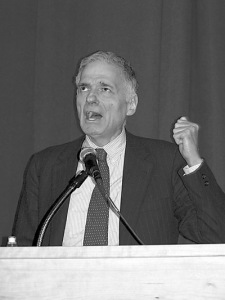 Tickets are available at Rock Hill Bakehouse Cafe. Info: 793-0075.
Mr. Nader, 80, talked to The Chronicle by  phone on Tuesday.
He said Mr. Funiciello "really understands what it takes to be a functioning democratic society."
Mr. Nader agrees with Mr. Funiciello's advocacy of "living wage" legislation.
He said Mr. Funiciello rightly realizes  General Motors is marginalizing American workers by moving jobs to Mexico.
And he said Mr. Funiciello "sees through the ACA" — Affordable Care Act — which Mr. Nader said is a ploy to subsidize health insurance companies, hospitals and other corporate interests.
Mr. Nader said Mr. Funiciello isn't alone in trying to break through as a third-party Congressional candidate. He said former NBC newsman Ed Rabel is attempting it in West Virginia.
But he said Mr. Rabel is being denied the chance to appear in debates, while Mr. Funiciello is getting that chance, which Mr. Nader said is key, especially because he said Mr. Funiciello "knows what he's talking about" and will shine in a debate."
Mr. Nader said that when the pro wrestler Jesse Ventura ran for governor of Minnesota, he was polling just 9 percent of the vote before debates began, but that he gained "5 to 6 percent per debate."
Eventually, said Mr. Nader, Mr. Ventura prevailed in a three-way race with "35-36 percent" of the vote.
Mr. Nader said that voters have been conditioned to see every race as between just two candidates. He said America needs to break out of settling for the "least worst."
Asked his view of President Obama, Mr. Nader said it's a complicated question, but he said, "I know he's been terrible on the militarization of foreign policy….He hasn't paid much attention to waging peace."
"Brute force only creates more metastasized opposition," Mr. Nader said.
"When you ally yourself with dictatorial people, you become the invader," said Mr. Nader, and he said that 20th century history shows that movements to "expel the invader" succeed.
Mr. Nader was particularly harsh in his assessment of former Secretary of State and potential Presidential candidate Hillary Clinton. He said Libya "was Hillary's war," and views her as responsible for the vacuum that resulted. His Website Nader.org declares, "Hillary the Hawk flies again."
Asked what should now be done about the terroristic Islamic State movement, Mr. Nader said, "That's the rub."
He said it's key that the "locals do the recovery of their country." He said "15,000 to 20,000 well-trained Iraqis, with Kurds" could successfully counter the insurgency.
"ISIS is turning the local people against it," Mr. Nader said. He said that the Iraqi Sunni Muslims initially saw ISIS as liberating them. "Now they couldn't get 20 percent of the vote."
Mr. Nader said ISIS isn't "like the Vietcong, who built communities behind them."
Mr. Nader faults the media for focussing so much on international war issues, which he says they like for the drama and excitement. Mr. Nader said it "crowds out all the domestic issues" — like poverty, health care and the environment.
He sees little difference between the Democratic and Republican parties. He said they operate "with different names — and they all end in PAC."
Mr. Nader faults the American citizenry, too. He said people simply don't pay attention to the issues.
He said they present "cynicism as a mask for being clever. They don't get it. Cynicism quits. Skepticism asks questions" and pushes on.
Copyright © 2014 Lone Oak Publishing Co., Inc. All Rights Reserved.