Two teams and 41 individuals form the first class of inductees into the Queensbury Union Free School District's newly created Athletics Hall of Fame.
Half the group will be honored in a ceremony on Oct. 14, 2023, at Lake George's Courtyard by Marriott.
Tickets are $50 per person, including appetizers and a buffet dinner with choice of beef or chicken and a cash bar.
To purchase tickets, send a check to QUFSD Athletics Department, 409 Aviation Road, Queensbury, NY 12804.
Checks should be made out to: "Queensbury Booster Club." Contact Carey Breault at (518) 824-5688 or email cbreault@queensburyschool.org for additional information.
The other half of the first class of inductees "will be invited to a second event in the fall of 2024," the school said.
Group one, being inducted in 2023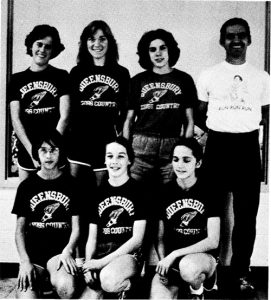 1977 Varsity Girls Cross Country (team of distinction)
Beverly Carpenter '57 (coach)
Charles "Chuck" Connolly (coach)
Jeffrey Cook '74 (athlete to be honored posthumously)
Dr. Amy Phelps Davis '81 (athlete)
John Dennett (athletic director/coach)
Robert "Bob" Glendening '80 (athlete)
Quentin Howe '85 (athlete to be honored posthumously)
Dr. John "Jack" Irion (contributor to be honored posthumously)
John Irion '77 (coach)
John "Jack" LaBombard (coach)
Joseph Lehet '71 (coach)
John "Jay" Marra '70 (coach)
Terry Martin (coach)
Christine Bergeron Merrill '79 (athlete)
Lloyd Mott (athletic director/coach to be honored posthumously)
Laura VanDenburg Paniccia '78 (athlete)
Mark Sheehan '79 (athlete)
Craig Short '77 (athlete to be honored posthumously)
Timothy Smith '63 (athlete)
William "Bill" Smith, Jr. (coach)
Elsie Stec (contributor)
Andrew Varney '80 (athlete)
Heidi Mann Vittengl '82 (athlete)
•
Group two, being inducted in 2024
1997 Varsity Girls Cross Country (team of distinction)
William "Bill" Anderson, Jr. '89 (contributor/athlete to be honored posthumously)
Julie Clark '89 (athlete)
Gary Crossman '92 (athlete)
Kevin Crossman '94 (athlete)
Heather Fiore DiBiase '93 (athlete)
Jeffrey Dybas '87 (athlete)
Joshua Etu '99 (athlete)
Matthew Goetz '87 (athlete)
Brendan Harris '98 (athlete)
Caitlin Hickin '00 (athlete)
Dr. Christine Nicholson '89 (athlete)
Scott Paltrowitz '00 (athlete)
Suzanne LaMere Seifert '88 (athlete)
Daniel Stine '98 (athlete)
Eric Stoddard '00 (athlete)
Kevin Sullivan (coach)
Adam Terry '00 (athlete)
Robert "Bob" Underwood (coach)
•
"The history of Queensbury athletics runs deep," Superintendent of Schools Kyle Gannon was quoted. "At this event, we'll be able to formally acknowledge individuals and teams that deserve this recognition."
Copyright © 2023 Lone Oak Publishing Co., Inc. All Rights Reserved