By Mark Frost, Chronicle Editor
Karl Schulze hopes to succeed in a vanishing business.
He's opened Schulze's Auction at Midtown Shopping Center in South Glens Falls, just up from the Dollar Tree store.
He does auctions Friday nights, mostly household items so far, but on Aug. 11, "We have a nice antique auction.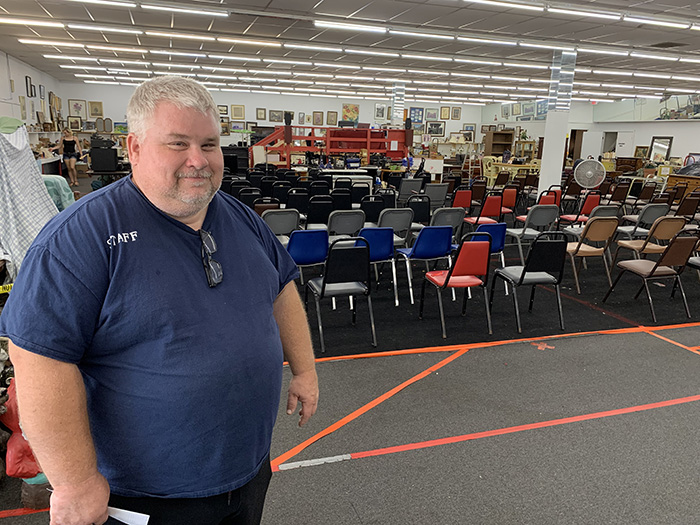 "For years, I've bought and sold stuff at auctions, flea markets. Traveled up, down, had some relatives or friends that did it. We used to go all the way to Connecticut, Long Island selling stuff. I've been doing it my whole life," Mr. Schulze, 49, told The Chronicle. "So I decided — my uncle and I came one day and we saw the sign in the window said for lease…He's like well, if you don't try it now, in 20 years you're gonna regret it. If you did it and failed, at least you tried it…If it doesn't go, you got something else to do."
Mr. Schulze says, "I got a job working for Finch Paper. That's my main staple," doing utility work — "truck driver, mow lawns, weed whack, plow snow, things like that.
"And then I got a farm in Fort Edward that I try and run as best I can. But you know, farming in this state, it's not easy."
Nor is the auction biz.
"I've only been here 11 weeks, this will be my 12th week here. In the beginning it was kind of rough….I have not made any money. I've burnt through my savings to keep the place open for the last two and a half months.
"Things are starting to turn, so we're getting better stuff. I have barns and tractor trailers full of stuff over the years I bought. I do a lot of clean outs for different people, bought a storage unit. So I have tons of stuff."
Besides the auction on Friday starting at 7, "we have a flea market here every Saturday and Sunday, from nine to five.
Mr. Schulze said most people have been supportive — and "at least seven other retired auctioneers I've known from different auction houses have been here already."
Mr. Schulze said retired auctioneer Mike Smith came in, took an interest, gave him good advice. (It was Mr. Smith who alerted The Chronicle to this story.)
The fact that the space is air conditioned is a big plus, though Mr. Schulze says, "Every time you flick the switch, you can feel the money leaving your pocket, but it is what it is.
"We weren't expecting to hit a home run on the first day, but our name is getting out there, we're getting more and more stuff. I've got roughly 100 people to call back or stuff that I gotta go look at it."

Mr. Schulze said, "With the mentor that's been helping me, he tells me things but says 'You don't have to do it this way.' I said, 'You've got 40 years of experience. I got seven weeks. Whatever you recommend, it's better than what I'm doing right now.'"
He says, "All the auctioneers said that May and June were probably the worst two months for an auction all year. People are coming out of the winter. They don't want to be indoors, they want to be outside. So they said if I can get through the summer, October the tide will start to turn.
"Right now. I'm really starting to get a lot more stuff. I think it's because I'm the only game in town for an hour, hour and a half drive."
There are about a hundred chairs arrayed. "Last week we had every seat filled and we still had probably 10 or 15 people standing in the back," Mr. Schulze said.
"That was the first time we ever had a butt in every seat," he said, adding, "we have another 100-something chairs we can put to the back here."
"Right now we're almost at the 200 registered bidder mark. So that's 200 people come through the door that registered to come to the auction and bid at one point or another. So now I'm waiting to see that 1,000 mark, 1,000 names"
The process is computerized, Mr. Schulze said, "The computer will get you a number. And then once you have the number, it's the number as long as we're open forever. So it doesn't ever change."
Mr. Schulze is not himself the auctioneer. He said he can't "talk that fast — yet." Frank Guilder is the auctioneer.
But Mr. Schulze is alert to everything about the business.
"My hardest part is getting staff to work," he said. "And then we've had some staff steal stuff, already. Steal money, steal stuff out of here, so we've had to let them go. And that's tough because in this business when you're starting out, I'm barely making it as it is to start.
"The staff part was difficult because in the beginning, we were doing Friday night and Saturday night auctions. So we had to stop Saturdays because we couldn't get the turnaround and people to help put stuff out. And it's frustrating when you've got stuff, and you don't have enough people to take care of it."
A church has come in to sell some refreshments, and another vendor brings other food that he said is "starting to get a pretty good following." Mr. Schulze said he lets them be there for free, as "an added benefit" for his auction audience.
"In the beginning, the money I had set aside to start this, some of the repairs and the cost of cleaning the place up, the garbage, was more than I anticipated.
"So, like, the signs didn't get put up right away. We have tried some painted signs that had some problems with the town, can't do this, can't do that.
"The code enforcement has been really good to us. He's worked with us, it's not like he comes in here and he's screaming every day. He just explained to us these certain issues," he said,
"You know, it's a learning curve for me. Man, I've never done something like this in my life.
"It's fun, though. It's fun watching people sit in the crowd, everybody's always looking for that treasure.
"That's the part of yard-saling, barn finds, flea markets, whatever you're doing, you're looking for that one treasure that somebody didn't know about. You're looking for that million dollar holy grail book that, 'Oh my god, it was at the bottom of this box and nobody knew about it.'
"Everybody's always looking for that one superstar pick that they got."
Mr. Schulze has his own little jackpot as a goal. "Eventually, hopefully, this thing gives me enough so my daughter and my granddaughter can have something that I can leave."
Copyright © 2023 Lone Oak Publishing Co., Inc. All Rights Reserved