Note: This Friday, June 6, Netflix is releasing the second season of its hit series "Orange is the New Black," based on Piper Kerman's memoir about her time in a federal women's prison. We are posting here the piece written by The Chronicle's Sandra Hutchinson, about Ms. Kerman's appearance last fall at Skidmore College.
On Tuesday, Nov. 12, I took a flyer on something I happened to see listed in the Chronicle calendar — a talk at Skidmore College by Piper Kerman, who wrote the 2010 memoir Orange is the New Black: My Year in a Women's Prison.
I haven't read the book, but I have watched the entire first season of the Netflix TV series based on it. It is edgy, raw and sometimes tough to watch. A second season is due next year.
The show, on which Ms. Kerman is a consultant, depicts fictionalized inmate Piper Chapman's experiences at Litchfield (Ct.) women's prison while incarcerated for a federal drug trafficking conviction.
Ms. Kerman has been criticized by some for pointing out how different she was from the typical inmate (including repeatedly mentioning her blonde hair). But in reality, it is probably these differences that allowed her story to get traction.
I wasn't sure what to expect from Ms. Kerman, who is now 44. She drew a throng at Skidmore, filling the auditorium where she spoke and an overflow room where her talk was simulcast.
Ms. Kerman said her conviction stemmed from a post-college romantic relationship with a woman heavily involved in trafficking drugs. Ms. Kerman said she carried a "bag of money" from Chicago to Brussels, at the woman's request.
She said she knew it was illegal, she was scared, but she did it anyway. She later ended her relationship with the other woman ("Alex" in the Netflix series), moved on and said she largely forgot about it, until she was indicted in federal court.
Ms. Kerman spoke of her own prison experience and of topics concerning the U.S. prison population, and the female population in particular.
Ms. Kerman provided some interesting insights into real-life prison life for women. She described prison as being "highly hierarchical and structured." Failure to follow the rules can land you in solitary confinement.
She says the first thing to learn are the rules, then which correctional officers ("COs") are humane and which to avoid. She said you never ask another inmate "What did you do?" Rather, an appropriate "icebreaker" is "How much time do you have?"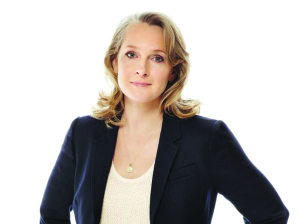 She said multiple factors, including mandatory federal drug sentences, have resulted in current incarceration of 2.3 million people in U.S. prisons and jails, more than in any other country.
According to Ms. Kerman, since the 1980s, the female prison population alone has increased 800%, because of minimum sentences and the "war on drugs." She said many of the inmates, if not the majority, are "non violent, low-level drug offenders." In terms of "race and class," as Ms. Kerman put it, "the numbers are stark and not supported by crime statistics."
Ms. Kerman said a black person is four times more likely to be arrested for marijuana than a white person, and she stressed that different Americans are "policed and prosecuted" differently. She concluded that she was treated less severely in her sentencing because of her socio-economic class and the color of her skin. Additionally, she pointed out that she had the economic means to hire a private defense attorney, which is not an option for most drug defendants.
While Ms. Kerman didn't seem to be on a zealous crusade to change the prison system, she said it could be improved by "common sense sentencing, especially for non-violent offenders; public defense reform; and changing the way we treat children in the system."
She said, "People in prison aren't defined just by their worst day, but should be defined by their best day, too."
Ms. Kerman stressed that prisoners who maintain strong ties to the outside world are much less likely to return to prison. Her boyfriend ("Larry" in the show) — who is now her husband — was able to visit her at Danbury every weekend from his home in New York City. Likewise, her friends were able to visit her. She noted that when an inmate's family lives many hours away, and doesn't have the funds or ability to travel, that connection and support can be lost. Ms. Kerman said the best day of the week in prison is visitation day, and the best time of day is mail call.
In terms of the Netflix series, Ms. Kerman said it is not a faithful depiction of the book, but the same themes are there — class and race; friendship and empathy; and motherhood.
The series depicts Alex, the woman who asked Ms. Kerman to carry the money, as incarcerated with her in the same Connecticut prison. But Ms. Kerman told us that she and the other woman only served a short time together, near the end of Ms. Kerman's sentence, when they were both housed in a facility in Chicago, where they were to testify in the same trial.
Ms. Kerman said she reviews show scripts and gives advice, but the producers aren't required to heed it. She said some aspects of the show are very accurate. She screened a clip from the first episode about the first time she met her bunk mates. "This is verbatim what happened," she said.