By Gordon Woodworth, Chronicle News Editor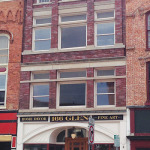 Tim and Suzanne Reed sold their 166-168 Glen Street building on May 22 for $770,000 to DB4D Apparel, Inc., Warren County land records show.The Reeds bought the 6,600-square-foot building in September 2007 for $280,000, real estate records indicate. Purchaser DB4D Apparel, Inc., is associated with Headrush, a clothing company that once leased office space in the Travelers Building, confirmed Mark Del Signore, the firms' attorney, of Borgos & Del Signore in Queensbury.
Headrush is owned by Burton Rice. Mr. Rice's father, Peter Rice, was under contract in 2010 to buy the J.E. Sawyer building with plans for a hotel on the site, but the deal never materialized. Mr. Del Signore said his client "bought it [166 Glen] to use the second floor for office space, and as an investment. Tim will stay on the first floor and lease the space. He has done all of the work on the building."
Mr. Reed operates 166 Glen, a home decor and interiors store, on the first floor.
The Reeds bought the building in 2007 from Jonathan Segan, who owns the Jonathan Reid menswear stores.
Nine Authentic Goods, a retail collaboration between Trampoline Design and Davidson Brothers, occupied the first floor from November 2010 to April 2013, and the Trampoline advertising firm had its offices upstairs until last winter.
Mr. Reed renovated the first and second floors, exposing original tin ceiling panels and brick walls, and enhanced the entryway. The third floor remains unfinished.