By Gordon Woodworth, Chronicle News Editor
Hudson Headwaters will seek Town of Moreau approval to build an $11-million, 24,000-square-foot health center on Route 9 north of Northway Exit 17, with Glens Falls Hospital leasing a quarter of the space for imaging and lab work, The Chronicle has learned.
"Glens Falls Hospital and Hudson Headwaters have been planning this for almost a year," Hudson Headwaters CEO Dr. Tucker Slingerland told The Chronicle after we inquired about the plans.
"We recognized that our current health center in Moreau has really outgrown its space, and there is demand there….
"We have many shared patients and have a need that both organizations recognize. Why not put them all in one building? In the future we need to find efficiencies. This required good joint planning. I'm really proud of this planning process."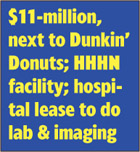 Tracy Mills, the hospital's vice president for planning, said, "We're thrilled about this partnership. It fits well into our strategy to expand services to our patients…in more convenient locations."
Dr. Slingerland said, "We both recognize the need in that area to expand primary care and have additional services, and we shared the realization that this area we could together serve.
"We're both trying to do the same thing, recognizing community needs and making care more convenient…It's a high-growth area where services are limited."
Five times bigger than current one
The health center would include 18 exam rooms, one procedure room, two behavioral health room and care management facilities, Dr. Slingerland said.
"It will provide comprehensive primary care, including pediatrics and behavioral health, and we plan to add urgent care in the future," he said. "The priority was to expand the primary care piece."
At 24,232 square feet, it would be nearly five times bigger than Hudson Headwaters' current Moreau Health Center, which is 4,992 square feet.
He said Hudson Headwaters treats 6,000 unique patients or families in Moreau.
"We know this new building will be successful," Dr. Slingerland said. "And we hope it attracts new patients in need of health care in a growing area."
Glens Falls Hospital will lease 6,084 square feet for x-ray and ultrasound imaging and a laboratory for testing.
Ms. Mills said, "It's a win for both of us and a win for our patients."
Dr. Slingerland emphasized that the project still must seek town approval. If approved, he said he hopes to break ground this summer and be open next spring.
The 5.09-acre site, just north of Dunkin' Donuts, is about a half-mile from Northway Exit 17. It is listed for sale by Trinity Realty Group (TRG).
Calls to TRG president Kevin Parisi were not returned by press time.
Dr. Slingerland wouldn't disclose the land price, but put the project price tag between $10-million and $11-million including the real estate purchase price, construction and equipment.
Possible pharmacy, too
Dr. Slingerland said, "We are also contemplating pharmacy space. It might be a good site for pharmacy."
Hudson Headwaters and Glens Falls Hospital increased cooperative efforts after Dianne Shugrue took over as CEO in 2013. She worked with Hudson Headwaters' founder and former CEO Dr. John Rugge.
In January 2014, Dr. Rugge — in a joint interview with Ms. Shugrue — told The Chronicle, "The only thing I can be sure of is Glens Falls Hospital and Hudson Headwaters are going to be working together like never before to keep health care moving and improving in the area.
"…As we do one planning project or another, we do them with combined teams, Hudson Headwaters representatives and hospital representatives working together around the table."
Copyright © 2018 Lone Oak Publishing Co., Inc. All Rights Reserved.