By Zander Frost, Chronicle Staff Writer
Lake Luzerne Town Supervisor Gene Merlino told The Chronicle he accepts the findings of fault in an audit by New York State Comptroller Thomas DiNapoli's office, though he has explanations for its findings.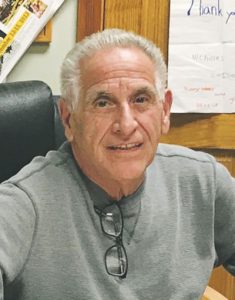 He said he has made adjustments to bring the Town into compliance.
He also said New York State cleared him of criminal charges in a separate investigation.
The Comptroller report said in part, "The board did not enforce the provisions of the town's procurement policy, and as a result, town officials did not seek competition when procuring goods and services totaling $561,829, or 48%, of the purchases reviewed."
Mr. Merlino told The Chronicle that "I didn't do it; the board, the [then] deputy supervisor did it" because Mr. Merlino said he had been out for several months with health issues.
The Comptroller report said, "The supervisor did not ensure payroll payments were accurate or in accordance with town policies. Town officials did not properly review and certify payroll and 15 of 54 payroll registers reviewed were not certified.
"Officials also accepted incomplete time records for processing payroll and none of the 67 timecards reviewed contained all punches for time in/out.
"Additionally, inaccurately calculated overtime payments to hourly employees resulted in overpayments of $8,052…"
Mr. Merlino says, "The guys sometimes don't punch in and out for lunch, because the Roads Department might be working 10 miles up the road, and then they drive 15 minutes back to the garage, punch out, eat their lunch, punch back in. You're wasting a half hour every day.
"So to me, that's a waste of money. But if that's what they want, I'm doing it now and I follow their rules," he said.
The report said, "Officials also did not always pay wages at board-approved rates, resulting in a $13,650 annual increase to the town's payroll that the board did not approve."
Mr. Merlino says this was "because I gave raises to guys in the Buildings and Grounds Department and the Road Department…without getting board permission."
"The Buildings and Grounds superintendent retired," Mr. Merlino said. "And he was making $55,000. They said I should have sent out an RFP [Request for Proposals] looking for a replacement…"
"I felt getting a replacement, somebody that doesn't even know where Luzerne is, or where our roads are or where our buildings are" was not a good idea.
"I gave five employees raises totaling $15,000 for the total year. I felt that I saved the town $40,000 by not hiring somebody," Mr. Merlino said. "And I moved everybody up the chain."
Overall, Mr. Merlino says of the Comptroller's report, "Everything they put in there, we have done. Now I have 90 days to get them all done in resolutions, which we're working on now."
He says, "I really don't fault it. I'm not a saint. No money went my pocket. And a lot of things I do just to get the job done," he said.
Mr. Merlino says that there were two investigations. "One was the audit, but the audit was already planned. These guys make it sound like they called in the state to come in to audit my books.
The other "was the criminal charges, selling town property, almost like embezzling" — allegations leveled on the eve of the election in 2021.
Mr. Merlino says New York State "gave me my computer back after two years, all my bookwork that they took, and said, I'm cleared of all. I have no criminal charges against me."
Even with the allegations of wrongdoing two years ago, Mr. Merlino was re-elected.
"The town people put me in on a write-in. And they just put me in again on the primary to get that guy [former Deputy Supervisor Dan Waterhouse] out again.
"So I mean, the town is happy," says Mr. Merlino. "I work hard. I work this job seven days a week, 18 hours a day sometimes. And I love what I'm doing."
Mr. Merlino says of town board members who attempted to oust him, "there's only one left from the board now from that group two years ago. They all resigned.
"Now the last one, I don't think he got enough signatures…So he's off at the end of this year. I have a clean slate of new people and we're gonna move forward."
Copyright © 2023 Lone Oak Publishing Co., Inc. All Rights Reserved