Parades & programs to honor the fallen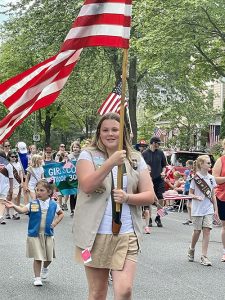 Communities commemorate those who fell in service to our country with parades and ceremonies around the region. Here's some of what's planned.
FRIDAY, MAY 26
South Glens Falls: Parade, 6 p.m., on Main Street from intersection with McHugh Street to 5th St. Proceeding on 5th Street to Veterans Memorial Park for ceremony at approximately 7 p.m. Guest speaker is Assemblywoman Carrie Woerner. Performances by South Glens Falls marching band, a capella group Vocal Point, Galloway Gaelic Pipe Band. Grand Marshal is Air Force Veteran Wayne "Beanie" Bruce.
Also, Cookout at Moreau Community Center, 4 to 6 p.m. "Bring a chair, stay to watch the parade."
Saturday, MAY 27
Lake George: Parade, 11:30 a.m., from West Brook Road up Beach Road, then north on Canada Street to Shepard Park for ceremony at noon. Speakers include `Mayor Raymond Perry and Angie Vernum.
Hague: Parade, 2 p.m., from Route 8 to Hague Town Park on 9N. Grand Marshal is Jan & Bob Whitaker. Senior of the Year is Art & Joan Steitz. Followed by Memorial Dedication Service at Hague Town Park.
Also, Funfest at Hague Town Park, 10 a.m.-4 p.m., with craft fair, white elephant sale, games, bounce house, food concessions, karaoke and Penelope the Clown. Concert by Cambridge Band at 12:30.
Fort Ticonderoga: Parade and ceremony, 11:30 a.m., led by the Fife & Drum Corps, commemorates the many soldiers who lost their lives at Fort Ticonderoga in the French & Indian War and the American Revolution. Fort open from 9:30 a.m.-5 p.m. with reenactors, historians and activities. Carillon boat tours on Saturday and Sunday, other events throughout the weekend. Admission required: $27 for adults, $25 seniors, $13 children 5-15, under 4 free.
Saratoga National Cemetery (200 Duell Road, Schuylerville): Ceremony, 11 a.m. at the assembly area at the main flag pole. "Remember and honor the men and women who gave their lives in military service to a grateful nation."
Note: Arrive early. There is only one entrance and cars may get backed up.
North Elba Cemetery (76 Old Military Rd., Lake Placid): Commemoration, 10 am. Remembrance of North Elba resident, William Appo Jr., who sacrificed his life in the Civil War.
Troy: Bell Ringing and Wreath Laying Ceremony, 9 a.m., at Oakwood Cemetery. Ringing of the Meneely Bell, wreath laying by Friends of Oakwood Cemetery and Veterans of Lansingburgh in honor of deceased veterans.
Monday, May 29
Glens Falls/Queensbury: Parade, 10 a.m. in Glens Falls, on Glen Street from Maple Street north to Crandall Park. Followed by ceremony at the Victory & Peace Monument.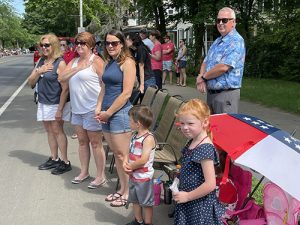 Rain location is Glens Falls Recreation Center at 1 Fire Road.
Grand Marshals are Tim Benner, Harriet Rogers and Mike Varmette. Keynote speaker is John Taflan, West Point graduate with illustrious military career. Reading of Abraham Lincoln's Gettysburg Address by New York State Boys' State Citizen Jack Sweet. Presentation of Colors, Armed Forces Salute, Roll Call, Placing of Wreaths, Ceremonial Firing, Presentation of Arms and Color Guards Pass. Benediction by Rabbi Joshua Gray. Remembrance ceremony music by Queensbury High School Band.
Queensbury: Memorial Day Services, 7 p.m., by Adirondack Chapter #79 of the Vietnam Veterans of America, at Vietnam Memorial on the campus of SUNY Adirondack, Bay Road. Color guard, bugles, and guest speakers. All are welcome. Rain or shine.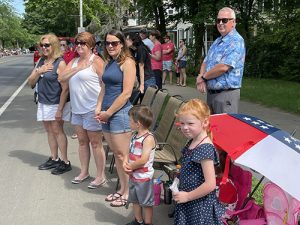 Lake George: Honoring the Four Unknown Soldiers, 10:30 a.m. at Lake George Battlefield Park, Fort George Road. Ceremony honors men believed to be American Colonial soldiers killed during the Bloody Morning Scout in the 1755 Battle of Lake George, during French and Indian War.
Musket salute and prayer, speakers include Assemblymember Matt Simpson. Info: lakegeorgebattlefield.org
Warrensburg: Parade, 9 a.m. from firehouse on Elm Street, continuing on Elm Street to Hudson Street Cemetery for ceremony, sponsored by the American Legion. All veterans are welcome to march. Rain location: Firehouse.
Bolton Landing: Parade, 10 a.m., beginning at Rogers Park, pause for ceremony at the WWII Memorial on the corner of Horicon and Rte. 9N, then proceed to Veterans Memorial Park for ceremony including student speech. Vehicles available to transport veterans if they can't walk.
Grand Marshal is Gil Howse. Guest speaker is Charles Miller, a senior at Bolton Central school. Bolton students will also perform Taps. Followed with entertainment by DJ Andy Pratt and refreshments by town of Bolton and Stewarts' Shops.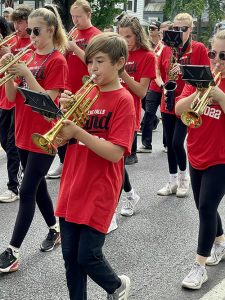 Hadley-Lake Luzerne: Parade, 11 a.m., from Hadley Four Corners on Rockwell Street to Hope Bridge for a wreath ceremony. Proceeds to Church Street, and to Lake Avenue and Lake Luzerne Cemetery for memorial service.
Participants include Washington County Draft Animal Association. Return to the American Legion for food and refreshments after the ceremony. Anyone interested in marching meet at Four Corners at 10:45 a.m. Rain location for the service is American Legion Post 862.
Horicon: Parade, 11 a.m. around Mill Pond, followed by ceremony at Town Hall. Continue to Town of Adirondack for Ceremony, at Noon, at the Adirondack Memorial, opposite Adirondack General Store.
Stony Creek: Parade, 3 p.m. from Town Hall and ends at Town Park for ceremony. Refreshments at Town Hall following. Line up at 2:45 pm. Grand Marshal is Army veteran Harold "Smokey" Ralph.
North Creek: Parade, 9:45 a.m. from Town Hall to Veterans Memorial on Main Street for ceremony at 10 a.m. Refreshments at North Creek Fire House.
Schroon Lake: Ceremony, 10 a.m. at Veterans Memorial in Town Park on Dock Street. Proceeding to North Hudson for Ceremony, 11 a.m. at North Hudson Town Hall, hosted by American Legion Post 982 and VFW Post 362.
Long Lake: ceremony, 11:30 am with American Legion 650 at Town Bridge. Guest speaker is Colonel Donald M. Boone. Noonparade to the Long Lake cemetery from Town Hall for commemoration and decoration of the graves.
Albany: Parade, 3:30 p.m. on Central Avenue from Ontario St. down to Hawk and Washington.
Washington County, Mon.
Kingsbury & Hudson Falls: Kingsbury parade, lineup on Franklin Street behind high school at 8 a.m. Step off at 9 a.m. from Hudson Falls High School, Franklin Street side, to Veterans Memorial at Moss Street Cemetery for ceremony. 10:10 a.m. Proceed to Juckett Park monument in Hudson Falls at 10:45 a.m. Music y Hudson Falls High School band at National Anthem Ariel Guyett at 11 a.m. Hudson Falls: Parade continues to Union Cemetery in Fort Edward for ceremony. Concluding at Hudson Falls American Legion Hall for ceremony.
Open House and barbecue follow at the American Legion Post 574, 72 Pearl Street.

Fort Edward: Parade, 1 p.m. on Broadway, from the Washington County Building to Notre Dame Street. First parade since Covid.
Fort Ann: Parade, 10 a.m. from Fort Ann Central School on Catherine Street to George Street, onto Route 4 to Village Park for Memorial Service. by American Legion Post 703,, Boy Scouts, Fort Ann Central School Band and guest speaker.
Argyle: Parade, 10 a.m., from laundromat on Rte. 197 proceeding to Sheridan St., ending at American Legion Post 1518 for Memorial Service at the Legion Hall. All veterans, regardless of affiliation, are welcome to march. Line up at 9:30 a.m.
Hartford: Parade, 6 p.m. from Hartford Central School, north on Hartford Main Street to Town Barn for ceremony. Speakers include includes reenator Phil Jessen reciting Abraham Lincoln's Gettysburg Address.
Also, New York's last remaining Civil War Enlistment Center, at 55 Main St., will be open all day for visitors. Hartford Methodist Church at 47 Hartford Main Street hosts a takeout chicken barbecue from 1 p.m. until sold out.
Salem: Ceremony, 9 a.m. at the Shushan United Methodist Church followed by a parade, 10 a.m. from the Old Washington County Courthouse in Salem, heading down East Broadway for services at Archibald Street Bridge, Revolutionary War Cemetery, Civil War Monument at Evergreen Cemetery and concluding at Catholic Cemetery.
Whitehall: Outdoor Catholic Mass and ceremony, 8 a.m. at Our Lady of Angels Cemetery. Parade, lineup 9 a.m. for 10 a.m. step-off from American Legion on Main Street north to Clinton Ave., west to the Navy Gun Park for wreath laying. Parade proceeds south on Broadway to Poultney St., west to Williams St., north to Saunders St., returning to American Legion for ceremony at Veterans Monument in Riverside Memorial Park. Grand Marshal is Post Chaplain Deacon Robert Wubenhorst. Lunch by the Legion.

Tuesday, May 30

Corinth: Parade, 6 p.m. on Palmer Avenue, then on Main Street to Route 9N towards the cemeteries for ceremony, then to the firehouse. Washington County Draft Animal Association. Wreath laying ceremony along the way at the bridge on West Mechanic Street. Refreshments follow at the firehouse. Lineup at 5 pm. Rain date May 31.
SUNY Adirondack: Memorial Service, 7 p.m, by Vietnam Veterans of America Chapter 79. Guest speaker is Don Amorosi.
SUNDAY, June 4
Prospect Mountain, Lake George: 50+ uears aannual Memorial Service honoring POWs and MIAs of all past wars and conflicts, 1 p.m. at Prospect Mountain summit. Led by Warren County American Legion. Music by Johnsburg and Warrensburgh Central School Bands. Admission to Memorial Highway will be free. Speakers: ECO Officer George LaPoint, and State Senator Dan Stec. Legion riders from Granville, Whitehall, Christian Motorcyclists. Reception follows at American Legion Post 374, Route 9L, Lake George. Rain or shine.
— Compiled by Chronicle writer Chris Liggio
Copyright © 2023 Lone Oak Publishing Co., Inc. All Rights Reserved