By Gordon Woodworth, Chronicle News Editor
Work being done by Rozell Industries to temporarily weather-proof the section of Glens Falls Civic Center facade that fell last week is covered by the City's insurance policy, Mayor Jack Diamond said Tuesday.
"All invoices from Rozell and others will be submitted to the City, and we will then submit them to our insurance broker, Cool Insuring," Mayor Diamond said. He said the City will first pay a $5,000 deductible.
Four nights of Section II boys' basketball playoff games had to be rescheduled elsewhere after a portion of the facade near the roofline at the back of the Civic Center collapsed on March 4, presumably from snow and ice buildup. The building was closed until Sunday, and Oakland Avenue was closed for more than a day.
Engineer Dan Ryan, in a March 6 report to City Engineer Steve Gurzler, said, "It does not appear that the parapet wall movement or bowing and eventual collapse caused any damage to the building's primary superstructure or any component of the building intended to support gravity and lateral loads."
Rozell's quick response praised
Disney On Ice shows will take place as scheduled on Friday, March 13, and the Mayor said the State high school boys' basketball tournament on March 20-22 will go on as scheduled.
Mayor Diamond said Rozell employees are now "sealing up the outside of the building, and then a roofer will come in and extend the roofline to complete the weatherproofing of the building."
He said "there is no indication we have ever had a problem like this, and we've had some tough winters.
"Once employees saw the problem, they took action immediately, and Rozell was there quickly. Our biggest concern was the potential collapse of the entire facade, which is why we closed the road."
Adirondack Flames president Brian Petrovek said, "Thank God for Rozell. They are a Flames sponsor, and I called John and Brian Rozell, and they pulled guys off other jobs and assembled a crew.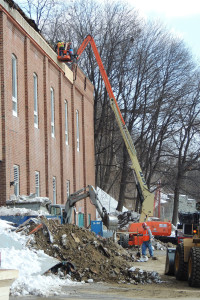 "No other company around here can do what they do, and they were here in minutes. They also made the connection with Dan Ryan, the engineer who came in and assessed the situation."
City, Coalition both have policies
The lease and purchase option agreement the City signed with the Adirondack Civic Center Coalition says the Coalition is responsible for insurance for workers compensation, commercial general liability and business interruption.
The City is responsible for "comprehensive liability insurance…against property damage, bodily injury, loss or damage by fire and such other risks included in the standard form of extended coverage insurance in the amount of $2-million."
The contract says the Coalition is responsible for repair for "reasonable wear and tear," but the City pays for "a mechanical, structural, nonstructural or environmental material defect of the Civic Center which requires repair, replacement, or remediation, the reasonable cost of which exceeds $5,000 to correct."
Laughing, Mayor Diamond said, "I think the building is trying to get the best of me. It just doesn't want to let go! I hope it's standing longer than I am sitting in this chair!"
Copyright © 2015 Lone Oak Publishing Co., Inc. All Rights Reserved.