By Gordon Woodworth, Chronicle News Editor
Robert and Carmela Mastrantoni have bought the 179 Glen Street building housing Poor Richard's Antiques, next to Gourmet Cafe, and plan to open a second location of their Lake George Olive Oil Company by September.
The price paid for the building was $280,000, county records indicate.
"This new venture, the Lake George Olive Oil Company, is working out very well for us," said Mr. Mastrantoni, when contacted by The Chronicle.
"We looked at other places but we really wanted to do something in Glens Falls. It's a great community, and it's a really good spot for us."
The Mastrantoni family, who also own MezzaLuna restaurant in Lake George Village, opened the olive oil business last summer on Canada Street in Lake George.
It offers dozens of olive oils from around the world.
Mr. Mastrantoni said the business will occupy the first floor of the three-story, 5,580-square-foot building in Glens Falls.
"The second floor will be converted to office or apartments, and the third floor is a rented apartment. That will stay the same.
"We're looking to re-do the building up front, and there will be some interior work done."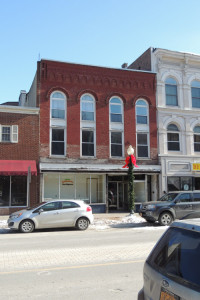 Mr. Mastrantoni said his daughter Letizia will run the business, with help from his son, Robert Jr.
"We will all be there for the opening," he said. "We're excited and looking forward to having a store in Glens Falls."
City records show that the building's seller, Richard Guyette, bought the building in June 1996 for $54,100.
Tina DeMarsh of DeMarsh Real Estate represented both the buyer and seller.
Copyright © 2015 Lone Oak Publishing Co., Inc. All Rights Reserved.