A 74 year old Queensbury man fell through Glen Lake while ice skating Tuesday morning around 9:46 a.m., Bay Ridge Fire Chief Chip Mellon said. The man spent roughly 15-20 minutes in the water before being rescued.
The unidentified man was taken to Glens Falls Hospital to be treated for exposure to cold water, and was conscious and talking to his rescuers when they pulled him out, Chief Mellon said.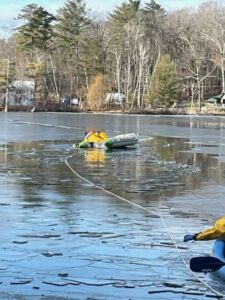 "The lake ice is definitely not safe, there was maybe an inch and a half of ice where he went through. This was a pretty labor intensive rescue and we are glad it ended safely," Chief Mellon was quoted in the Warren County release.
Emergency responders are urging people to stay off ice given the warm weather we have had recently.
The Warren County Marine Rescue Team was called at 9:46 a.m. for a person through the ice on Glen Lake, off shore from Barber Road in the town of Queensbury.
"The scene is in the Bay Ridge Fire Department district, and their personnel were first on scene with an inflatable boat and firefighters in coldwater suits. They made their way to the man, who was in the water holding onto the ice about 150 yards offshore. Using a rope they pulled him to the boat and brought him ashore to Queensbury Emergency Medical Services personnel," the release added.
Bay Ridge was assisted by firefighters from North Queensbury, who brought a hovercraft, Bolton (with their airboat) and Queensbury Central, Lake George and Horicon.