By Zander Frost, Chronicle Staff Writer
The building at 58-66 South Street that once housed Irish Pizza, OTB and Glens Falls Bagels, is being transformed.

Partners Gregg Singer and Larissa Ovitt purchased the building in February for $325,000. Mr. Singer estimates they'll put a "half million" dollars into redoing it.
He said he is from the New York City area, now lives in Saratoga Springs.
Ms. Ovitt is a 2003 Lake George graduate.
"I'm part of a generation of locals who moved away and have lived in big cities," she told The Chronicle via text. (She was out of town when we stopped by on Tuesday.)
"A lot of us moved back during Covid, but after, a lot of us stayed. Now we are looking to have more of the city amenities and experiences that we've grown accustom to, but still keep that small 'Home Town USA' charm and vibe that we're also used to."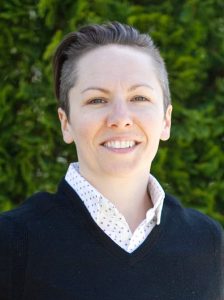 The pair own and manage short term rentals in the Capital Region as "Empire Rental Group."
Mr. Singer said this is their first mixed-use property. "We're sort of like the anchor of South Street, trying to lift it up," he said.
The building has three retail storefronts on the first floor and 3,000 square feet of "basically what was just open space upstairs."
They've made progress thoroughly renovating the building, much of which was in very poor shape, Mr. Singer said, but there's still more work to go.
They painted the exterior white, and coupled it with black windows to evoke a retro theme.

They intend to convert what was Glens Falls Bagels (and previously several different bars) into the "Golden Monkey Lounge."
"Very chill, very comfortable," Mr. Singer said. "It's going to have little couch areas. Not a sports bar, not a dive bar, not a fancy bar." He describes a space with couches, and a "living wall" of plants.
"There is no lounge in town," he added. "We're going to open something that's kind of unique."
On Wednesday, they planned to remove the large front windows, and replace them with a roll top door, that he said can "fully open" the front of the building.
Combined with the bar's back patio, "you'll have a nice cross breeze."
The bar will have a kitchen. The pair will own it and employ a manager.

Next door, in what was once the OTB and then Queensbury Taxi, they have someone lined up to open a "refillery-slash-apothecary."
Mr. Singer said customers will buy glass bottles of "stuff for their house — soaps, cleaning solutions, all stuff that's healthy and not terrible for the environment. They use them up, they bring the bottle back, they get a new bottle."
They're revamped the former Irish Pizza space, painting it white, "New lighting, new electrical, New HVAC… kitchen is ready to go," he said.
Irish Pizza had no heat or air conditioning, Mr. Singer said. "The pizza ovens did heat. 22 hours a day, it was hot."
There were plans to have Glens Falls Bagels and owner Kerry Smith move into the space, but Mr. Singer said that they went their separate ways.
They're now seeking a tenant for the third storefront. "We're really looking for, like, a breakfast place," Mr. Singer said.
"The town really needs more breakfast, some more brunch options. And then it would be great if they wanted to open late at night also for the bar scene."
Mr. Singer said he's been approached by potential businesses — like a head shop and liquor store — but he says they weren't the right fit.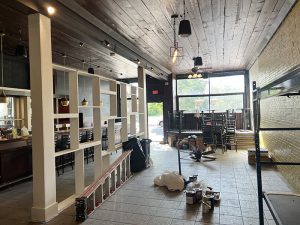 He said it would be a waste of the kitchen investment, and "we're trying to build on what the town is looking for."
On the second floor, the now empty space, once a billiard hall, will be four one-bedroom short term rentals.
They'll be "beautiful apartments, high end, which doesn't really exist in town if you're used to Airbnb," said Mr. Singer.
He said prices fluctuate with the season and the market, but estimates they'll probably rent for $100-200 per night.
The front units are identical, as are the back ones — but they have pocket doors that can be opened to connect them.
If a renter wants to rent all four, they can open the hallway doors and turn it into one complete unit.
Mr. Singer said the cafe space is ready for a tenant now. He estimates a July 1 opening for the bar and said the apothecary should open in "a month and a half."
The short-term rentals are more "slow going," he said, because of "code issues."
"We have to sprinkler the entire building, and that is slowing us down, because it's hard to find somebody to do that quickly."
Mr. Singer emphasizes that he and Ms. Ovitt's "goal is really to match what the town is trying to do," Mr. Singer said.
"Which is to bring people in, have them take advantage of all the great restaurants that are in town.
"Which — I live in Saratoga — I think the restaurants here are better than Saratoga. I think the bars are more interesting. And I think people are more interesting here."

Mr. Singer sees South Street as on the rise, and this location a key part of that.
"We're right across the street from the new farmers market building which they're about to start digging in about a month or two."
Ms. Ovitt said, "Downtown is becoming the new destination spot for many of the travelers we have hosted here over the past couple of years. The tune is changing.
"We're creating in response to the feedback we have received directly from travelers who used to 'always go to Saratoga or Lake George' every year. Now they're coming here."
Copyright © 2023 Lone Oak Publishing Co., Inc. All Rights Reserved