By Zander Frost, Chronicle Staff Writer
Downtown Glens Falls has a new Italian-American restaurant, Laurella's, owned and operated by Jerry Porreca. It's in the 21 Bay Street space that formerly housed Seafood on the Bay on the ground floor of the Rogers Building.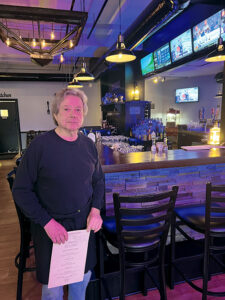 Mr. Porreca extensively renovated, with with walls ripped down and a new 26 seat bar installed, beneath mounted TVs. He started the renovation in August and opened for business in December.
Mr. Porreca said the Italian and American menu is "moderately priced. We don't gouge anybody. Huge portions."
He said "Sausage and Chicken Rigatoni," is one signature item. "It's three cheeses in a marinara sauce" for $28.99.
Bucatini pasta (instead of spaghetti) with meatballs is price at $17.99.
There's chicken marsala, veal, vegetarian "Pasta Victoria," "and then we still offer a burger," Mr. Porreca said.
"The way I do things, it's a little different taste-wise. That's what they're all raving about."
Mr. Porreca, a musician himself, said live music will be a focus. Right now the live acts — like Matt Donnelly and Bobby Dick and Suzie Q —are on some Friday and Saturday nights. Mr. Porreca plans to ramp that up moving forward.
Mr. Porreca operated Smokey Joe's in Lake George "for almost 15 years."
"Lake George is just fine in the summertime. You work your can off in the summertime. But then when the winter comes? It's changed up there. The winters — it's not good."
He said Smokey Joe's signature baby back ribs are on the Laurella's menu, but they're not pushing it. "We're more of Italian."
Mr. Porreca said he had long talked with Peter Hoffman, the building's owner, about moving to Glens Falls. Now, the timing was right.
Mr. Porreca turns 80 next month and has been in the restaurant business for decades. He says, "If it's something that you have the passion for, it's easy.
"It can get strenuous, don't get me wrong. Like Saturday night we had every table was full…but I've got two other good guys with me and we get through it."
Of starting up in Glens Falls, Mr. Porreca says, "I've never seen a city that was so welcoming for a new business."
"The people are that way," he adds. "It's just a pleasant atmosphere."
Mr. Porreca's son, Russell Porreca, owns Raul's Mexican Grill on Glen Street.
Laurella is Mr. Porreca's mother's maiden name. Smokey Joe's was named for his father.
Copyright © 2023 Lone Oak Publishing Co., Inc. All Rights Reserved