By Ben Westcott, Chronicle Staff Writer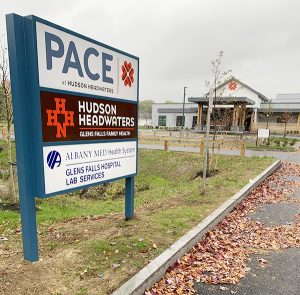 Hudson Headwaters Health Network has opened its new location — Glens Falls Family Health — as of Nov. 1 at 38 Larose Street, near Romeo Toyota and the Broad Street Hannaford supermarket.
It has 18 exam rooms and a floor plan designed to support an integrated team care model with nurses, patient service assistants, behavioral health specialists, care managers, resident physicians, advanced practice providers and physicians working together, said Hudson Headwaters press information.
Glens Falls Hospital provides on-site lab services.
It is Hudson Headwaters's 22nd brick-and-mortar health center.
"The establishment of Glens Falls Family Health has been a long-time community effort, with many details thoughtfully developed to improve health outcomes and patient experiences for years to come," Hudson Headwaters CEO Tucker Slingerland, M.D. was quoted in a press release.
"As a nonprofit, Federally Qualified Health Center, Glens Falls Family Health expands access for all in our community, regardless of income or insurance."
Glens Falls Family Health is open Monday, Wednesday, Thursday and Friday, 8 a.m. to 5 p.m., and Tuesday, 8 a.m. to 8 p.m. New patients are being accepted.
The 30,000-square-foot building will also be home to PACE (Program of All-Inclusive Care of the Elderly) at Hudson Headwaters.
Expected to open in 2024, "PACE is a community-based alternative to nursing home care for qualifying individuals ages 55 and older with multiple chronic health conditions," Hudson Headwaters said.
PACE at Hudson Headwaters will become the 10th PACE program in New York State and the first in the state sponsored by a Federally Qualified Health Center.
More information is available at www.pacehh.org. In addition, further information about Glens Falls Family Health can be found at https://www.hhhn.org/locations/glens-falls-family-health/.
Some docs moving from Qby to GF Family Health
Hudson Headwaters Health Network informed patients in a letter that some providers are relocating their practices to the new Glens Falls Family Health center on Larose Street, Glens Falls.
Among them are M.D.'s Ephraim Back, William Borgos, Kasuni Kotelawala, Colleen Quinn and Holly Bachilas, as well as FNP Denise Richard and LCSW-R Beverly Symonds.
This is a partial list.
Copyright © 2023 Lone Oak Publishing Co., Inc. All Rights Reserved