By Gordon Woodworth, Chronicle News Editor
Brien and Mike Moran, whose Moran's Sporting Goods Store was a Hudson Falls mainstay that supplied athletic gear and bicycles to generations of local kids, are donating $500,000 to kick off a $1.1-million complete renovation of Derby Park in Hudson Falls.
The gift was announced Tuesday morning at a press conference in the former Washington County Courthouse building in downtown Hudson Falls.
"This community has been my life," said Mike Moran. "Brien and I have both lived here all of our lives. We're very proud of it, and this is our way to give back. This is what a small community needs to help bring back self-pride.
"It drives me crazy to drive by Derby Park and see very little activity. Now it's going to be a showcase for not only sports events but other events, with a walking path for seniors.
"We want to bring this community back together, and we believe Derby Park is the place to do it."
"We are very proud to be able to do this and to give back to this community that has been so wonderful to us," Brien Moran told The Chronicle after the press conference.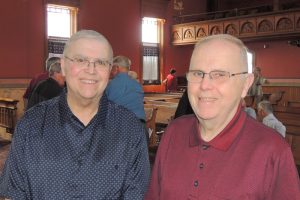 the announcement of the Morans' gift.
"This is emotional," Mayor Barton said when asked about it moments later. "I'm 63 years old and I've lived here all of my life, and played every sport imaginable at Derby Park. To see it come back to life is absolutely fantastic."
A standing ovation greeted the announcement. "There was a lot of affection for Mike and Brien in that room," said one of the attendees.
Mayor Barton said a committee is forming to raise the remaining $600,000 needed for the project, but donations may be made by writing a check to the Derby Park Fund and sending it to the Kingsbury office of Glens Falls National bank, 3019 Route 4, Hudson Falls, NY 12839.
Upgrades are expected to be completed by 2021, officials said. They include:
Regulation-size soccer field
New softball field
New basketball court
Three pickleball courts
Quarter-mile, paved walking path
Two outdoor event spaces for shows and festivals
New lighting and fences
New irrigation and landscaping
Restroom & clubhouse renovation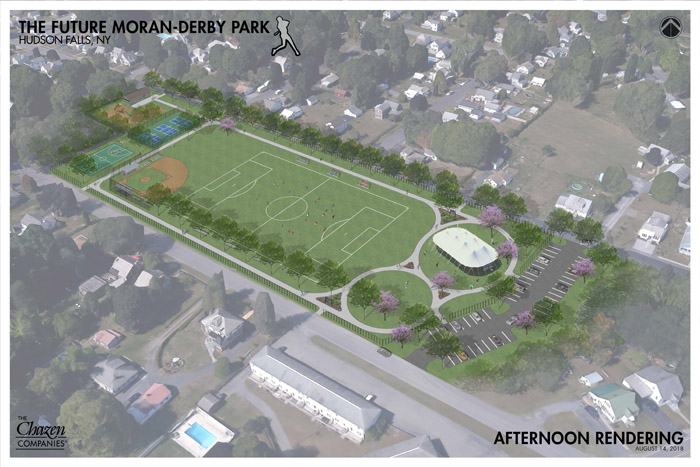 The Chazen Companies designed the improvements, and will seek grant funding to complement other fund-raising, said a press release.
The committee overseeing the work includes Mayor Barton, Deputy Mayor Bob Cook, Kingsbury Town Supervisor Dana Hogan, Village attorney Bill Nikas along with Mike Moran, Dan Van Wie, Mike Horrigan, Em Lewis and Tom Van Aernem.
The Morans worked in the late 1950s and early 1960s with their parents, Henry and Gladys Moran, in operating H.G. Moran Sporting Goods on Main Street just north of John Street, said press materials.
The brothers took the reins in 1970, eventually moving into a former Grand Union store at the north end of the Village in 1976. Moran's was the region's dominant sportings goods store.
They sold the business in 1989, bought it back in 1993 and operated it as B&M Sporting Goods, until closing it in 1999.
Mike Moran said they still own several apartment buildings in Hudson Falls, Kingsbury and Glens Falls under the name Moran Enterprises.
Copyright © 2019 Lone Oak Publishing Co., Inc. All Rights Reserved.