By Sophia Afsar-Keshmiri, Chronicle Summer Staff
There are two new local options for children's and parents' shopping.
(G)row — "curated cuteness for kiddos 0-5" — opened in late May on Exchange Street in Glens Falls.
"At (g)row," says its website, "you will find clothing, toys, and gear for children age 0-5 as well as special gifts for parents (and parents-to-be!) and a selection of maternity clothes."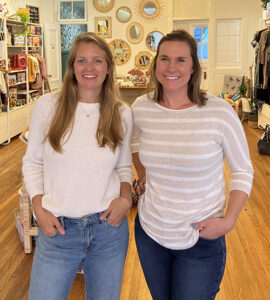 Also, it's "our mission to support parents in living a self-full life while raising good, kind, humans."
Owners Hillary Williams and Melanie Weber said, "we have a classroom. We offer classes for parents, kids, kids and parents together. People were really searching for something like that, where they didn't have to travel to Saratoga, or Clifton Park or another city."
Cuddle Bugs adds party space, more
Meanwhile, Cuddle Bugs Boutique, a consignment store with a location in Wilton Mall and previously also in Moreau, opened Friday, Aug. 26, in the former Moreau Town Hall at 61 Hudson Street in South Glens Falls.
"We bought a building instead of renting," explains owner Kimberly Henkel.
Her website says, "We are a local, family owned business specializing in children's, women's and maternity items… we also offer many new items from the manufacturer and from local crafters. We are very selective in what we take so we can offer you the best!"
Mrs. Henkel said Cuddle Bugs in South Glens Falls includes a play area just like their Wilton location, but "the playland will all be revamped with new toys…
"The playland will be different than it was at the old location. There'll be a separate room for parties."
But it "won't be open until the end of September because we're still doing construction…" Mrs. Henkel explained.
Also new, "this retail store will have new kids clothes, which we didn't have at the old location, because we have room for that…Otherwise, it's pretty much the same as the Saratoga store."
More about (g)row
(G)row's website says its owners "became friends and bonded while both pregnant with our first babies" and that they shared "desire to not lose ourselves as we transitioned into motherhood."
The "row" in "(g)row," the website explains, is "a community….A safe space for parents raising their children by whatever book they choose (or no book at all!) with the like-minded hope of not completely losing who they were pre-parenthood. row offers parents research, tips, tools, and support for how to continue being you after parenthood."
​
Mrs. Weber says they did a "soft launch" of row. "We did a parents night out in July, which is kind of the very basics of what we hope that group looks like….We have been kind of teasing some of the programming…"
"I would say maybe we're starting to launch it, we just haven't put a formal name on it. Hopefully by the end of the year, it'll be a little more formal."
Overall, "business is going great," the partners said. "We couldn't be happier with the community support, the traffic we've seen in here, the feedback that we've gotten from everybody….
"We're hearing what we hoped we would — people were searching for something like this in the Glens Falls area, whether it was so they could shop local for their own children or to buy gifts."
Copyright © 2022 Lone Oak Publishing Co., Inc. All Rights Reserved