By Cathy DeDe, Chronicle Managing Editor
"Catastrophic" was just one of the strong words Ward 2 Councilman Robert "Bob" Landry used at last Tuesday's Common Council meeting to describe the impact on City residents of the F.W. Webb distribution center and retail store proposed on Quaker Road across from Garvey Volkswagen.
The project site is in Queensbury, but sits adjacent to the Windy Hill and Windy Ridge neighborhoods in Glens Falls.
On Monday, July 10, the Queensbury Town Board will hold a public hearing and potentially vote on rezoning the property from Commercial Intensive to Commercial Light Industrial, necessary for the F.W. Webb project to proceed.
Following Mr. Landry's presentation and additonal conversation by Mayor Bill Collins and Council members, the Council unanimously passed a resolution urging the Queensbury Town Board not to approve the zoning change.
The resolution, crafted after the meeting by City Attorney Karen Judd, notes that the zoning change is "specifically tailored for the F.W. Webb project."
It said the city's opposition is "based upon the concern for the environmental impact such as the water table and our existing infrastructure, the impact on the residents of the neighborhood as well as traffic concerns.
"Also, the Common Council has in question the SEQR Review Process for this project."
SEQR is required State Environmental Quality Review, which Mr. Landry said was hastily done. "It looked like a done deal to me," he told the Common Council.
Planning to attend July 10 hearing
Mayor Collins later told The Chronicle that he, Councilman Landry and other Council members plan to attend the Queensbury meeting on July 10.
He said he has not spoken directly with Queensbury Town Supervisor John Strough about the project.
A prior zoning change hearing was postponed after the Town of Queensbury was notified that it had failed to provide proper notice to impacted property owners within 500 feet — including Glens Falls City residents — as required by law.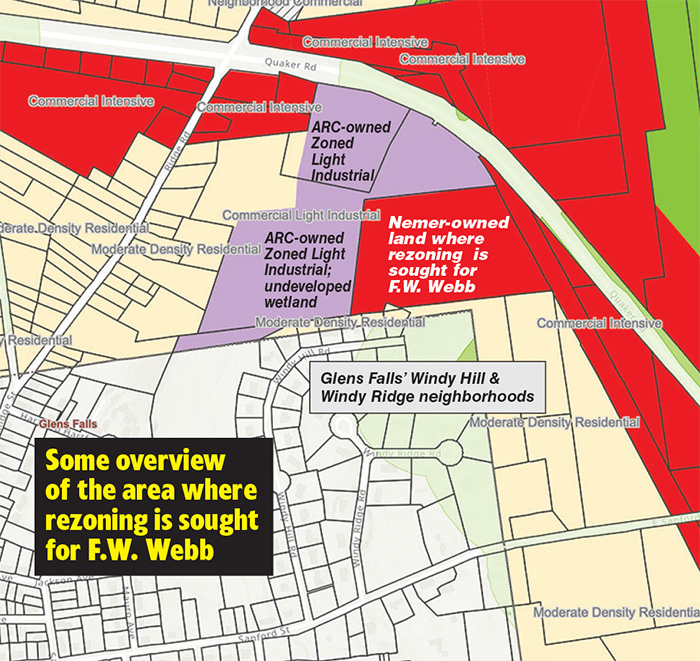 "That was a legitimate concern and we had to fix that," Queensbury Supervisor John Strough tells The Chronicle.
The property, owned by Robert and Peter Nemer, is adjacent to several Glens Falls homes, which have already seen impact from "clear cutting" of the lot that also impacted the water table, Mr. Collins and Mr. Landry said.
The Glens Falls property owners include Chronicle owners Mark Frost and Sandra Hutchinson, who voiced opposition to the project at the June 27 Common Council meeting and in a June 29 Chronicle letter to the editor, respectively.
City: 'Neighborhood-crushing'
At the Glens Falls Common Council Meeting, Mr. Landry called this "more than just a NIMBY situation," citing the acronym for "Not In My Backyard."
"This could have very catastrophic impacts to neighborhoods in the city," Mr. Landry said.
"…If this happens, residents in these neighborhoods will definitely see their property devalued, water tables definitely will rise. That's a problem not just for them, but also for for the City, with our infrastructure pretty precariously located underground."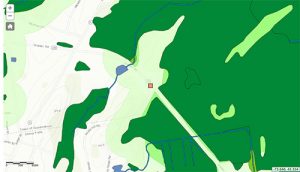 "It's a neighborhood-crushing disaster waiting to happen to Windy Hill," he said.
Mr. Landry and Mayor Collins again noted that the proposed F.W. Webb project is adjacent to designated wetlands — "the swamplands," Mr. Collins said the area was once called.
It's next to the former Glens Falls Tennis and Swim Club property, and a pond deeded to SUNY Adirondack by the late artist Douglass Crockwell — which the City hopes to develop as a recreational site and trails, the mayor said.
Queensbury's Strough on F.W. Webb: Wait for the hearing; a good company
By Cathy DeDe, Chronicle Managing Editor
The Queensbury Town Board will conduct a public hearing on Monday, July 10, at 7 p.m. on a proposed zoning change to allow construction of a new F.W. Webb distribution center and retail store on Quaker Road across from Garvey Volkswagen.
The City of Glens Falls on June 27 enacted a resolution opposing the rezoning.
Town Supervisor John Strough said Saturday he had not heard from Glens Falls Mayor Bill Collins, or had "any communication from the City" about its resolution. "I know of it," Mr Strough said. "I don't know the accuracy of all that they are saying."
The 15-acre site, now clear cut, is owned by Robert and Peter Nemer. It is adjacent to Glens Falls's Windy Hill and Windy Ridge Road neighborhoods.
The parcel is currently zoned "Commercial Intensive." The Town Planning Board has recommended changing the zoning to "Commercial Light Industrial" to allow the proposed F.W. Webb project.
The rezoning needs Town Board approval.
Neighboring Glens Falls residents, and now the City itself, object to the zoning change, citing impacts to wetlands and the water table, traffic, property values, noise and City infrastructure.
Mr. Strough said, "I don't know yet" how he'll vote on the zoning change. "That's the purpose of having public hearings. I want to hear what the public has to say."
Mr. Strough said, "I am very sensitive to impacts on wetlands. My understanding is the project meets or exceeds all wetland setbacks.
"We will need to sort through misinformation that's been going around versus finding out the factual information."
Asked the potential benefit of the F.W. Webb project, Mr. Strough said, "We have a good Queensbury company that would like to expand in Queensbury.
"They had not found anything suitable until they found this lot. We want to encourage and help businesses in the Town of Queensbury, especially if they want to stay here, and we want them to stay strong."
What about suggestions from the City that Warren-Washington County's Airport Industrial Park or the Glens Falls Industrial Park on Luzerne Road would be more suitable locations?
Mr. Strough said they're not appropriate sites. "The project also has a retail component to it, a kitchen and plumbing showroom." He likened it to J.E. Sawyer's, "which is right in the middle of downtown Glens Falls."
"This is right off Quaker Road, there will only be one or two trucks a day," Mr. Strough said.
He asked, "Are the neighbors opposed to anything and everything that would go there? I wonder if the residents would be happier with a Costco. It's currently zoned for something like a Costco."
Mr. Strough said, "The measure may or may not pass, or the Town Board may not even make a decision on that night. We can extend the public hearing."
If the zoning change is approved, Mr. Strough said the project would still need to go through site plan review and additonal Planning Board scrutiny including noise impact, visual impacts, and impacts on the wetlands, traffic.
"These are issues for the Planning Board, not the Town Board," he said.
Mr. Strough said the Warren County Planning Department also reviewed the proposed zoing change and determined "it has no County impact," for example on County-owned infrastructure.
F.W. Webb is now located on about 3.2 acres on Hiland Avenue, near the Warren Tire Service Center on Route 32 off Warren Street in Queensbury.
Its Quaker Road proposal — a $14 million project, the Albany Business Review said — has a 96,000 square foot building with up to nine loading docks and a 73,000 square foot outdoor storage.
About F.W. Webb
F.W. Webb, based in Bedford, Mass., said it is "the largest wholesale supplier of plumbing, heating, cooling, PVF and industrial products in the Northeast."
"There are more than 100 F.W. Webb locations in nine states, including all six New England states, New York, New Jersey and Pennsylvania," says its website. "In addition to the wholesale business, the company operates 48 Frank Webb Home showrooms."
The website says "the company has 16 areas of expertise, including its core businesses: plumbing, heating, HVAC, refrigeration, and PVF. Specialty markets include Propane Gas products, Water Systems, Fire Protection & Fabrication Systems, Pumps, Process Controls, Water Works and High Purity Process products."
The business's roots go back to 1899 when Frank W. Webb purchased a manufacturer and turned it into F.W. Webb and operated it until his death in 1912. The Pope family owns it now.
After the company had various owners, Roger Pope and four other men bought the business in 1933 "during the height of America's Great Depression" and he was named president in 1952, the website says.
"Upon Roger's sudden death in 1961, his son John Pope (1931-2018) was named to succeed him."
Now, Jeff Pope, a "third generation Pope family member to serve as president," leads the company.
Copyright © 2023 Lone Oak Publishing Co., Inc. All Rights Reserved