By Cathy DeDe, Chronicle Managing Editor
The "dream" began to take earthly shape Monday as installation started on Moment Factory's debut "Lake George Winter's Dream" interactive walk-through attraction at Fort William Henry.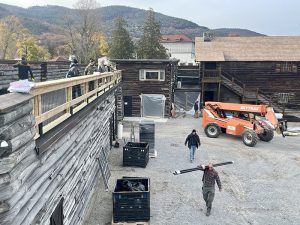 More than a dozen crew members were on site Monday afternoon, beginning the transformation process under technical director Ken Mark of Schuylerville.
Themed settings were marked out on the four bastions: "Snow," "Forest," "Lake" and "Moon."
"It engages all the senses — sight, sound, touch and even smell," said Fort William Henry President Sam Luciano on a quick walk through the site.
The entry and waiting area is set up as a dream-like bedroom setting, he said.
He showed where the planned 3-D Winter Cabin will be in the courtyard, across from an interactive wall of light projections also visible from the east walkway.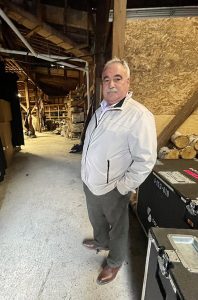 The space is designed to handle as many as 400 people an hour, he said.
They're installing ADA-compliant bathrooms and a wheelchair lift; upgrading walkways and stairs to handle the flow; adding under-building supports to bear the weight of displays, technical equipment and people; and winterizing locations not previously used in the cold.
"Now the Fort will be forever unrestricted and winterized," beyond the five-year commitment to Moment Factory, Mr. Luciano said. He said the Fort is footing the cost of any building improvements.
Separately, he said the snow removal contract is "huge," with much of the work to be done by hand especially inside the Fort and around the designs.
1,000 tix sold, many rooms reserved
"Bookings are way ahead of what we expected," Mr. Luciano said on Monday.
He said 1,000 tickets have been purchased for Winter Dream, five days after they went on sale.
"That's before we even start marketing it," Mr. Luciano said. "Marketing doesn't start for two weeks."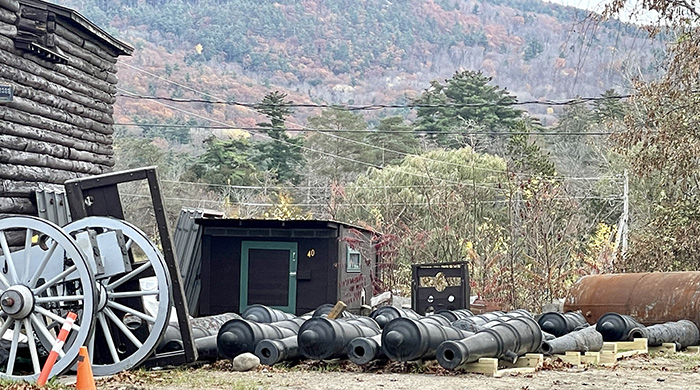 Opening day is December 8. The attractions is expected to go through March 31.
At the Fort William Henry Resort itself, "Reservations for the winter are already up over 800 percent of what's usual," Mr. Luciano said, noting "usual isn't very much."
"The goal has always been to make this region a year-round destination," Mr. Luciano said.
"It's why we invited Ice Castles to be in the Winter Coalition right away," he said, pointing out work under way on the new "Winter Realm" skating rink and light attraction in the Festival Space at Charles R. Wood Park, visible from the Fort's bastions.
"It's a one-two punch for five years." Mr. Luciano said.
He said half of any profits will be returned to Warren County to begin paying back the County's $3-million Occupancy Tax grant that launched the project.
"A one-time grant," he emphasized.
The other half of profits will go to additions to the attraction — "holograms, a luminaria walk," he suggested, especially with an eye toward the United States' 250th anniversary in 2026 (also known as the Semiquincentennial).

Copyright © 2023 Lone Oak Publishing Co., Inc. All Rights Reserved