They even got the 'S' in Glens Falls, Jason says
By Jason Irwin, Chronicle Rock Columnist
After catching a musical performance of a "little" different type (watching my son, Julian, and his classmates rocking out at the Abraham Wing School Spring Concert), I hopped over to the Glens Falls Civic Center last Wednesday night, May 6, to check out the action.
It was nice to see the arena FULL when I came in for the big Godsmack show — and it was early still, as opening act Hellyeah were just finishing their set.
More than 3,000 people attended the show, I was told.
It reminded me a little of the old Adirondack Red Wings days: Elbow to elbow — except the crowd attire was a little different, where the sea of red and white hockey jerseys were now traded for black concert tee-shirts.
The vibe was similar, though — enthusiastic.
Papa Roach roamed the house
Supporting act Papa Roach kept things interactive by coaxing the crowd into getting out of their seats, and they featured a cool, casual in-song stroll through the stands by lead singer Jacoby Shaddix.
The California rock act performed a mix of new material and fan favorites, including their 2000 hit single "Last Resort."
The band's "rap verse/big chorus" format held up for the occasion, and their vocal harmonies were impressive.
Kudos for incorporating the "Hey Ho, Let's Go" chant from the Ramones song "Blitzkrieg Bop."
Then the lights went down, and intro song AC/DC's "For Those About to Rock (We Salute You)" came up. It was clear that the headliner was "in the house."
With the sound system cranked up about twice as high, Boston act Godsmack rocked out a heavy set, also incorporating new and "old" material.
They really are a fun band to see live, though guitarist Tony Rombola seemed expressionless for the first few songs. But he smiled eventually.
Sully Erna is a great front man, and didn't disappoint — even the fan who he called out for wearing a Yankees cap took it in good fun.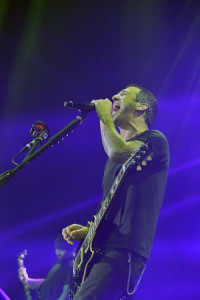 He's got a great voice, and is pretty good when it comes to keeping the crowd engaged. I get why the band is so often compared to 90s alternative act Alice in Chains, but this band's style takes the genre to original levels — which isn't easy.
Drummer Shannon Larkin is truly amazing, and I found it hard not to just watch him pound away all night.
The dual-drum set "drum off" between Larking and Erna was a treat, and something that really sets the band apart from others.
Hits like "Whatever," "Voodoo" and "Keep Away" had the place in frenzy.
I saw my first "crowd surfing video selfie" being recorded. I'd like to see how it came out. At one point, Erna gave the fans a chance to be in an upcoming video documentary by bringing out their own videographer and shooting the crowd.
And — bringing a little kid up to sit with him onstage during a verse pretty much won the place over, if he hadn't already.
He even passed my often-failed, out-of-towner "Glens Falls S-Test" — by actually pronouncing the "S" in "Glens."
After an encore, the show ended perfectly — in a shower of confetti.
Nice, guys. Stop by again soon; we could use it.
Also: Photographer recalls Godsmack at the Egg, acoustic
Chronicle freelance photographer Andrzej "Andre" Pilarczyk added this note on last week's Godsmack show.
•
This was a treat in many ways.
I'm not a heavy metal kind of a guy, but Sully Erna, the lead singer of Godsmack came through our area as a solo artist. This was at the Egg a few years ago.
Holy Cow, it was amazing back then! He played a grand piano, guitar and just sang on some songs. He had a real string quartet in tow, with the most beautiful lady from Romania on cello.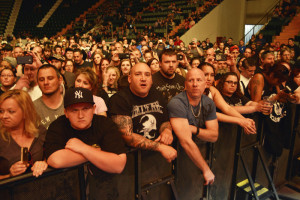 At that time Sully Erna played a few Godsmack tunes, but the rest were his tunes for that group. If memory serves, it was a 9- or 10-piece outfit. It was sheer poetry and musical dynamics.
I became a fan right then and there.
I've got to admit, this is my forth time photographing Godsmack, but it is the longest I stayed at any of their shows, just hoping Sully would do something that resembled what I saw at The Egg. Nevertheless, I'm still a fan.
My friend Jim Gilbert, now NYSMusic.com, keeps telling me that the Heavy Metal guys are great musicians of a highest caliber. Well, after seeing Sully solo, Godsmack lets me know that's true. This concert was actually fun for me in many ways, even though I didn't see the sting quartet.
— Andrzej 'Andre' Pilarczyk, Saratoga Springs
Copyright © 2015 Lone Oak Publishing Co., Inc. All Rights Reserved.