By Mark Frost, Chronicle Editor
Last month a friend alerted me that Dick Bartlett, ailing at the age of 89, had turned off the pacemaker. My friend advised me to hurry over.
So I did. When I walked into Dick's home, sure enough, not only was Dick's son Mike there, so were hospice volunteers. But when I was shown to Dick's bedroom, what greeted me wasn't death or anything the least bit grim.
Yes, Dick was in bed, but he was in great spirits, sharp and witty as ever.
And, in person and on the phone, a stream of well-wishers came calling. The previous day, he said, Robert Morgenthau, the Manhattan District Attorney from 1975 to 2009, phoned. While I was there, retired Court of Appeals Associate Justice Albert Rosenblatt and his wife arrived.
Dick's law partner Ben Pratt stopped by, as did Dick's friend from Bolton Landing Joan Baldwin, and Martin Auffredou, the attorney for Warren County now running for judge. Dick warmly welcomed one and all, kept us entertained.
Ben told me that on a recent day Dick looked so good that Ben wondered if was going to fully regain his health.
"Don't want to disappoint hospice," Dick quipped in reply.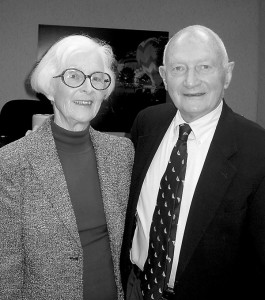 I was only there for a social call, but before long I couldn't resist taking notes. Oh, I knew Dick's illustrious history — the Glens Falls native who graduated from Georgetown University and Harvard Law School, who was a confidante of Governor Rockefeller.
The New York Times obituary on May 11 credited Dick for having been "instrumental in virtually abolishing capital punishment in New York State" and leading "the first major revision of the penal law in 80 years." Also, for having reorganized New York State's courts.
Dick was an Assemblyman, a judge, Dean of Albany Law School and a consummate attorney in the Glens Falls firm of Bartlett Pontiff Stewart. He was a community activist, too, and a co-founder of the local NAACP.
But this day he was telling me other things, very meaningful to me, that I'd never heard before.
Dick grew up on Lincoln Avenue, right up the street from where I spent my early years. My father always recalled the day that Dick came up on the porch to tell my parents that he'd passed the bar exam. One of Dick's best friends, Dick Anderson, lived next door to us.
Today, Dick told me of an even earlier event. He was 10 years old when he'd taken a .22 rifle up to Broadacres, where my family moved years later, but which was mostly rural and wild in 1936. Dick said the gun went off and shot him in the leg. He said it ended his participation in sports, but more severely he said it caused his father to have a breakdown from which he never really recovered.
Dick recalled his first date with his eventual wife Claire (Kennedy) — at "Breen's at Glen Lake with Dick Anderson and his date," Dick told me. "Had a few beers and shot darts." They wed in 1951; they honeymooned driving cross-country to Sacramento, to Dick's assignment as an Air Force JAG — Judge Advocate Officer.
Dick grew up in Glens Falls's heyday when the city thrived with locally owned companies that were national and world-class — in insurance and banking and in the making of paper, pigment, papermaking machinery, dresses, cement. It was a very cosmopolitan place.
Dick recalled that a group called the Glens Falls Civic Association sent him to France in the summer of 1950 and also sent a local woman, Barbara Foster, to Israel that summer, where she came to know the family of Moshe Dayan. Dick recalled that one of the people he met then in France knew Glens Falls for one reason — the wallpaper made here by Imperial, which later became the pigment plant owned by Hercules and Ciba-Geigy. He and the man stayed in touch. He called Dick this week, too.
Dick made friends — overseas, in the law, in politics, around town. He told me tales of people he and Claire entertained at their camp at Fourteen Mile Island.
The Bartletts lived the Lake George life in the summer, but traveled globally. I asked what his favorite trip was. He said it was a Baltic cruise with another local couple, Carl and Barbara DeSantis, that took them to Amsterdam, St. Petersburg, Helsinki, Stockholm, Oslo, Copenhagen, the capital of Estonia (he couldn't recall it at the moment, Tallinn.) He said that years later, Carl told him it was his favorite trip, too.
Dick talked of his start practicing law locally, first with Carusone & Carusone, then a brief partnership with John Dier, then with Yale Clarke and, I believe he said, Bert Dube. He said that Yale Clarke and he were tired of representing opposite sides of the constant lawsuits involving the sculptor David Smith and he joked that this was a way to extricate themselves from the thicket.
Dick talked about old, dear friends. "Dick [Anderson] is dead as is Dave White and Bud Bain," he said. "I'm the only one left of that crowd."
John Wertime, who served nearly forever as Warren County Treasurer, told me once that he and Dick were the last of the Rockefeller Republicans. Dick remained a liberal but independent Republican. It didn't surprise me when an Obama for President campaign sign went up on his front lawn. Dick led his own life, with conviction.
Copyright © 2015 Lone Oak Publishing Co., Inc. All Rights Reserved.