By Gordon Woodworth, Chronicle News Editor
Dave Strader is getting back in the NHL broadcast booth.
The Glens Falls native and long-time hockey play-by-play man hopes to call five Dallas Stars home games in the next two weeks as he continues to fight bile duct cancer, diagnosed in June 2016.
"I'm doing well," Strader said Monday morning in a phone interview. "I've responded pretty well to this last round of chemo. The first two were combinations of two drugs, and each had their problem, and this is a single drug that I've responded pretty well to…
"Everything started to fall into place when I had my most recent appointments and tests and a couple of treatments and I felt well enough and we started to have the conversation about doing some games."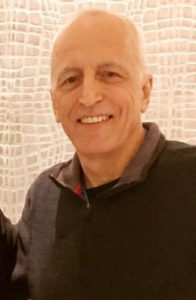 Strader hopes to call five Dallas Stars games, starting with Tampa Bay on Saturday, Feb. 18, with Daryl "Razor" Reaugh, who has been handling play-by-play for the Stars in Strader's absence.
"Then I'll call the game on the 24th against Arizona, which is ironically my 62nd birthday. The Feb. 26th game against the Bruins is an NBC game…so we will be on radio only for that one. On Feb. 28th the Stars host Pittsburgh, and then on March 2nd they host the Islanders. That's the plan, if I feel well enough to do those five home games."
Strader says he can't wait to get back in the booth.
"I first got that feeling [in late November] when I visited Detroit to see the last game that Dallas would play at Joe Louis Arena. It just felt so good to be around the team and be around hockey. I didn't feel well enough then to call a game but just to think that I'm going to get back and do some games…We'll see how it goes…I'll come back to the Northeast and kind of reassess because I've got some appointments in March, and then we'll see how it goes from there."
What are his emotions?
"I think I might be nervous in the sense of am I going to be able to finish the game? Will my voice hold up? I haven't called a game since Game 7 of the Dallas-St. Louis series on the 9th or 10th of May. There could be a little bit of rust there.
"…I've been watching and listening to all of these games, so it should be fairly easy to get back in the groove. There will be some nerves, for sure.
"There have been many times that I have thought that that Game 7 I did last May was the last game I'd call, so when all of this came together and I was going to have an opportunity to call some games, I said we've got to do this.
"And my doctor at St. Peter's was great. He said absolutely, we'll take a break from the chemo. He said it's just as important that I have that kind of therapy, if you will, as well as what we are doing medically. It's a good time to take a break. I'm feeling well, so we're going to move ahead with it."
Strader said the outpouring of support from Dallas fans "has been huge in terms of helping both me and Colleen get through this.
"All of the support has been helpful, from family and friends, the medical people locally in Glens Falls and St. Peter's and Mass General, it's all helped. The hockey community has been unbelievable, and I wasn't surprised to hear from a lot of Michigan people who are Red Wing fans who remember my years there with Mickey Redmond.
"I heard from Florida fans from my time there, Arizona fans, but only having one year to bond with the Dallas fans, I didn't quite expect the level of love and support and prayers that I got."
Strader started his hockey broadcasting career with the Adirondack Red Wings in 1979. He went on to jobs with the Detroit Red Wings and NBC before joining the Dallas Stars for the 2015-16 season.
Copyright © 2017 Lone Oak Publishing Co., Inc. All Rights Reserved.