By Gordon Woodworth, Chronicle News Editor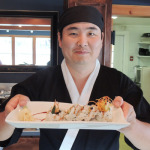 The Chang family, which has operated the Mikado restaurant in downtown Glens Falls for 16 years, has opened up Mikado Sushi in Bolton Landing.
It's located in the former Caffé Vero space at 4933 Lake Shore Drive.
"It's a great spot, and it was available, so we decided to give it a shot," said Danny Chang, who is running the restaurant.
"We will be …
Read More »