Chronicle Staff Writer Zander Frost writes: Juan Ramirez, 30, plans to open Taco Kings Jalisco on South Street in what was Irish Pizza.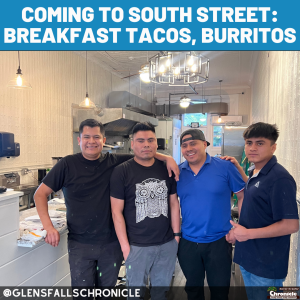 "We'll make al pastor and birria tacos. That's the special," he said. Plus asada and "different" style Mexican cuisine than anything else available locally. They'll serve their menu items all day.
Mr. Ramirez, originally from Mexico City, said he currently works at the Adelphi in Saratoga Springs. He'll work there until Taco Kings passes inspection and he's able to open, hopefully in a few weeks. He says they've been very supportive, and his manager there has even helped him with paperwork that he hasn't understood.
Mr. Ramirez has been "working a long time," he said. "Working in Mexico City, making tacos and everything. That's where we got the recipes."
He said he's been in Saratoga for six years.
He saw the open space online and jumped at it. "The place is clean, and it's nice, and I like it," he said.
"I like to make my own business," he said. His father owned a business in Mexico. "Now I want to do it out here."
The space, along with the upcoming Golden Monkey Lounge next door and apartments upstairs, has been renovated by Gregg Singer and Larissa Ovitt.