Chronicle managing editor Cathy DeDe writes: Three new apartments upstairs at 170 Glen Street — above the new Rude Betty retail store — are ready for show time. Billed as "luxury" short term rental accommodations, they'll be available through Airbnb, VRBO and other platforms "within the week," owner Tom Elliott tells The Chronicle.

Mr. Elliott purchased the building for $275,000 in September 2021. He says he put "north of a million dollars" into it.
Mr. Elliott, a Sarasota, Florida, native with a chain of Irish pubs there, is a long-time Bolton Landing property owner. He previously purchased 12 Warren Street, which has Black Anvil Body Art as a first floor tenant and a short term rental apartment upstairs that he uses as home base when he's here.
The three 170 Glen apartments are:
A 700-square foot one-bedroom corporate apartment available by the month or for several months for $3,000 a month. It's targeted to visiting executives and doctors or traveling nurses. Mr. Elliott said he is reaching out to Glens Falls Hospital. Decor includes a wall of vintage black-and-white cartoon illustrations of doctors and medical personnel.
2-story, 3-bedroom 1,800-square foot short-term rental unit at the front of the building, overlooking Glen Street, that also has an outdoor rooftop deck looking toward West Mountain. They're seeking to charge up to $500 weekly. It has an open, high-ceilinged kitchen, casual and formal dining areas, living room/seating areas with wide windows. Upstairs are three bedrooms, one a massive master bed- and sitting room, plus two baths. A long hallway leads to the rooftop deck. The hall itself will accommodate a wet bar.
Single-level, 2-bedroom 800- square-foot short-term unit envisioned to rent in-season for $300-$400 a week, "in the $200's" off-season. They'll see how the market responds, said Mr. Elliott and his property manager Brittany Townsend. "We're just getting started putting it out there," she said.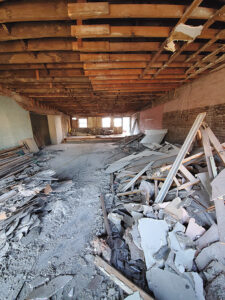 Mr. Elliott says, "The worst hotel is $100 a night. And here you have all new appliances, washer-dryer, it's fully furnished, and you can walk everywhere."
He said it's high-end, but "I don't want it to be so crazy that people don't get to experience it. I like to make these beautiful spaces, and I want people to enjoy it."
Upstairs was 'a bunch of nothing' when he bought the building, Mr. Elliott said. "There were newspapers there from the 1950s. There was just a ladder to get to the third floor." Renovations included fully replacing the roof.

Room furnishings are typically "clever restorations" and "eclectic" refurbished or repurposed antique items, Ms. Townsend noted. She said most are Mr. Elliott's own finds. He did much of the work himself, or had it done to his own specs. The modern paintings on the walls are Mr. Elliott's own creations, many featuring his signature blue bear figure.
Mr. Elliott likes to retain and work with vintage elements. He mixes exposed brick and painted plaster walls.
Brittany Townsend manages these and others of Mr. Elliott's holdings through her business, Calendula Properties. She says, "It's a professional co-hosting service," including housekeeping, maintenance, help with design and offering concierge services to guests.


Mr. Elliott also credits contractor Brody Farr, and architect Ethan Hall, on these projects. Mark Levack is his real estate representative.

Mr. Elliott says he recently purchased 428 Glen Street, Dr. Vincent Koh's former office, which he said he expects to renovate with as many as four short-term rental luxury apartments.
His 45-acre property in Argyle, already available to rent, includes a renovated house and a small cottage, plus he restored three classic Airstream trailers and arrayed them as "glamping" bedrooms, attached to a smaller out-building that serves as kitchen and living space.
"I like doing short term spaces," Mr. Elliott says. "Long term tenants, a lot of them develop a sense of entitlement. Short term people actually tend to take better care of the place. And there's a need for it. I do have some long term rentals in my portfolio, but it is not my preference. I'm not 100 percent committed only to short term, though."

Copyright © 2023 Lone Oak Publishing Co., Inc. All Rights Reserved