A Granville man was charged with felony Vehicular Manslaughter and misdemeanor Driving While Intoxicated in a May 3 accident that killed Nicholas J. Canning, 33, of Queensbury.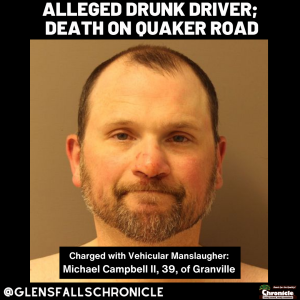 The Warren County Sheriff's police report said:
"On May 3, 2023 at 11:47 pm, the Warren County Sheriff's Office received a report of a serious motor vehicle crash on Quaker Rd in the Town of Queensbury.
"Michael Campbell II, age 39 of Granville, was operating a 2018 Ford F-150 eastbound on Quaker Rd near the intersection with Quaker Ridge Blvd when he failed to keep right, crossing center line and striking a 2005 GMC Safari head on that was operated by 33 y/o Nicholas J. Canning, of Queensbury.
"Canning died as result of injuries sustained in the crash.
"Campbell was arrested for driving while intoxicated and a chemical test later determined his BAC to be a .13 %. Campbell was charged with the felony of Vehicular Manslaughter in the 2nd degree and the misdemeanor of Driving While Intoxicated. He was processed and placed in police lockup pending an arraignment.
"This case remains under investigation by the Sheriff's office Traffic Safety Unit and Criminal Investigations Unit.
"The sheriff's office was assisted at the scene by the New York State Police, South Queensbury Fire Department, Bay Ridge Fire Department, West Glens Falls Emergency Squad and South Queensbury EMS."