By Gordon Woodworth, Chronicle News Editor
Adirondack Tree Surgeons of Wilton is sponsoring NASCAR driver JJ Yeley in this Sunday's Sprint Cup Series at Talladega Superspeedway.

"There's never been a tree company sponsor in NASCAR," said Adirondack Tree Surgeons owner Phil Viger. "I think we might get some TV time."
The race will be broadcast on NBCSN, Channel 44 locally on Time Warner Cable.
He said he and his wife, Judith, were talking to the owners of BK Racing at a NASCAR race in Darlington, South Carolina, earlier this year when "JJ came over and we started talking. I asked him if there were an opportunities for car sponsorship, and he said there was."
Mr. Viger said the sponsorship is for one race only. He declined to say how much he paid.
"I saw the car a couple of days ago, and it looks better in person than it does in photos," Mr. Viger said. "It really looks nice.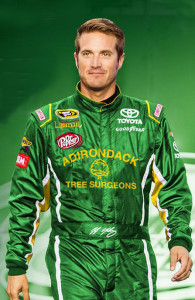 "This is very exciting for us, for our family and friends and employees."
He said JJ Yeley "is known for his dirt racing. He was the main driver for Joe Gibbs Racing for four years, and he's been in the top 15 in the last four restrictor-plate races."
Mr. Viger's daughter Judy said she is go ng to the race with her brother P.J. and her sister Tiffany, and her uncle "Lucky."
"I'm more than proud…We'll probably all be crying," she said. "Most people wouldn't dream of being on a NASCAR car. It will be emotional, especially because my brother will be able to be there."
P.J. Viger lost both of his hands when he suffered an electric shock while working for Adirondack Tree Surgeons.
Phil Viger said, "I know I will get goose bumps when I walk down pit road with my family, and when we're standing out there with JJ for the national anthem."
The family will stay with the pit crew for the race, he said.
"Hopefully we'll get it in Victory Lane," he said. "They may want us to stay as a sponsor if that happens!"
He said he started Adirondack Tree Surgeons in 1982 "with a '68 Oldsmobile, a garden hose in the trunk that I used as a rope, and an Agway chainsaw.
"It's been a lot of hard work, but we do alright now. We do a lot of work for the state and in New York City, and we have a good residential business with a lot of loyal customers."
Copyright © 2015 Lone Oak Publishing Co., Inc. All Rights Reserved.