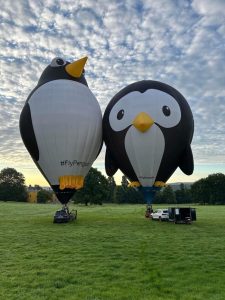 The 50th Adirondack Balloon Festival — Wednesday to Sunday, Sept. 20-24 — expects 97 hot air balloons including 14 or 15 special shapes.
It's the most balloons in years, and "more special shapes than we ever had before," organizer Mark Donahue tells The Chronicle.
Among them: three flying Penguins, a bathtub-friendly Rubber Duck, Simbala the lion, a cheetah, a flying Watermelon, festival regulars "Sunny Boy" and the Snowman, a black Koala, plus a celebratory Birthday Cake.
Also: A kid-friendly replica of the original Montgolfier hot air balloon, complete with flying sheep, duck and rooster, said to have been the passengers in the pioneering balloon flight — by French brothers Joseph-Michel and Jacques-Étienne Montgolfier, on September 19, 1783, according to Wikipedia.
*****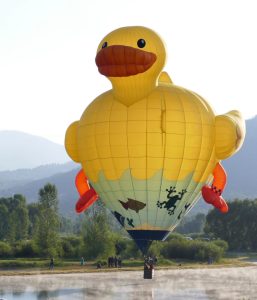 50th Balloon Fest starts Wednesday with cocktail party, moonglow at Hiland Park
By Cathy DeDe, Chronicle Managing Editor
The 50th Adirondack Balloon Festival opens a day early with a pre-festival cocktail party and moonglow on Wednesday, Sept. 20, from 5-8 p.m. at Hiland Park in Queensbury. Tickets are $40.
As of Sunday, 300 people had registered for the party, with more expected, including groups by major sponsors, said Balloon Fest organizer Mark Donahue.
He said it's the festival's first paid event in 50 years and it will honor long-time sponsors, balloon pilots and their crews.
NewsChannel 13 anchor Mark Mulholland will emcee. Music is by Rich Ortiz.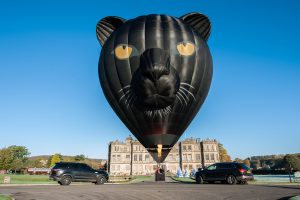 To buy tickets, go to www.adirondackballoonfest.org/gala-tickets
The event will offer first sales of balloon festival merchandise, including a commemorative pin set, plus raffles, cocktails and hors d'oeuvres, and a privatemoonglow for guests.
Also: Balloon Fest history boards and winning art works submitted by area elementary school students last June.
The Festival will also debut a new 50th anniversary commemorative painting by artist Lynn Benevento that will be put up for sale in a silent auction.
The History displays will also be installed in a "nostalgia museum" tent at festival launch sites, Mr. Donahue said.
New book of pilot bios
Balloon Fest Committee member Amy LaPoint will debut Pilot Memoirs, a book created for the milestone that profiles 92 balloonists associated with the Balloon Festival from its earliest years.
"I started it in 2019," Ms. LaPoint says. "It took me four and a half years. I interviewed all of the pilots. They talk about when they got started ballooning, when they came here, their memories. I never did anything like this. It was something, I woke up one morning and I just knew it needed to be done."
Besides its value as a keepsake, Mr. Donahue noted, "The book is a major fund-raiser for the Balloon Festival."