WWE Hall of Fame wrestler and Glens Falls native son Hacksaw Jim Duggan was hospitalized Friday for an unspecified medical emergency following an honorary ceremony and meet-and-greet with fans at the Glens Falls Fire Station on Ridge Street.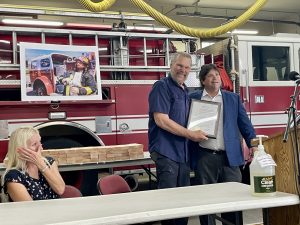 "Jim was taken to the hospital and admitted yesterday evening," his wife Debra wrote late Saturday afternoon on Hacksaw's Facebook page.
"He had emergency surgery this morning and everything went well. We will reschedule tomorrow's appearance in Utica, MI, for a later time. We welcome your prayers and we will continue to provide updates."
Sunday morning, Debra updated, "Jim is resting comfortably. He is on the mend and will be back on his feet soon."
She thanked Hacksaw's fellow pro wrestler and longtime friend Jake "The Snake" Roberts and wife Cheryl for sending flowers.
To his fans she wrote, "Thank you for your prayers, good wishes and messages. Hacksaw's fans are awesome."
Honored by Fire Company, Mayor
Hacksaw was typically energetic, even bouyant on Friday afternoon, working the crowed with his signature shouts of "Hoooh!" and thumbs-ups as the Fire Company named him an honorary member of its Permanent Benevolent Association "for your dedicated service as a summer firefighter," in the 1970s, during his college years.
Mayor Bill Collins proclamed it Hacksaw Jim Duggan Day in Glens Falls, with Hacksaw exclaiming over several points in the attending biography.
Hacksaw expressed delight over several gifts presented by Fire Captain Ric Stafford — a plaque with raised figures; a Firefighter's sweatshirt; a framed, original signed roster sheet from his summer service; and the hose nozzle from a publicity picture he took for the Department at the height of his wrestling days.
Before the meet-and-greet ended about a half-hour earlier than planned, Hacksaw enthusiastically shook hands, posed for thumbs-up pictures, signed 2-by-4s and other memorabilia with fans from Glens Falls and beyond.
Donations from the meet-and-greet raised $2,500 for the GF Nation Fund, which supports sports, arts and other out-of-classroom student programs in the school district.
Fund president George Normandin spoke also, thanking Hacksaw for his continuing generosity to his hometown.